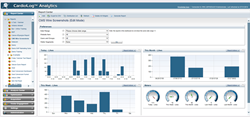 The CardioLog Analytics solution augments its boundaries and reaches out to SharePoint portal end users and administrators with various challenges...
Boston, MA (PRWEB) September 04, 2014
All paths lead to a final destination, and corporations and solution providers servicing a niche industry seek profitable results and overall success. With the company's extensive growth as a leader in SharePoint analytics, CardioLog Analytics is further expanding their clientele base and partnership opportunities. This year, the CardioLog Analytics team attends the SharePoint Technology Conference in Boston, from September 16-19. They will be presenting the hefty set of comprehensive analytics reports within the sleek and user friendly dashboard the solution offers.
The team of experts from CardioLog Analytics will be at booth 102, with partner GSX Solutions. CardioLog Analytics will present their supreme quality SharePoint analytics reports, while GSX Solutions offers their extensive SharePoint performance and health monitoring solution. The partnership unites the two tools as an option for a holistic overall solution for SharePoint users. The two tools bring analytics and SharePoint performance and health monitoring together under one harmonious umbrella, offering a package to comprehensively address the challenges of organizations using SharePoint.
With its array of SharePoint evangelists, industry experts, and sessions offered by SharePoint gurus, the SharePoint Technology Conference in Boston offers various knowledge acquisition and sharing opportunities. Microsoft SharePoint MVPs present sessions on SharePoint migration, overall technology advice, portal security management, migration risk reduction and achieving overall business goals with SharePoint. The conferences offers a range of technical classes, keynote speakers, sponsored sessions and panel discussions. The CardioLog Analytics team looks forward to contributing and extending their knowledge and expertise in analytics to the SharePoint user and business community at the event.
The CardioLog Analytics solution augments its boundaries and reaches out to SharePoint portal end users and administrators with various challenges. With 2014 bringing the development of Yammer, Sitrion, and ESN reports, CardioLog Analytics offers a package out of the box unlike any other SharePoint Analytics tool. Video usage reports, third party CRM integration and analytics for Microsoft Dynamics and Salesforce, and usage tracking reports are all included out of the box. The solution extends beyond search, navigation and visitor reports with an outstanding set of engagement and collaboration tools. Each of these tools provide weighty benefits to any organization using SharePoint. Voice of Customer surveys are an excellent means for acquiring SharePoint user feedback. The Message Bar, a sleek and discreet banner-style tool that allows for personal messages and customization based on visitor segments such as SharePoint Active Directory, is also included with the solution. Various other optimization tools come with CardioLog Analytics, such as the Behavioral Targeting tool for user interface customization based on portal visitor segments.
Unlike any other SharePoint analytics solution on the market, CardioLog Analytics caters to the needs of on premise, on demand and all intranet, extranet and internet sites, specifically those designed with SharePoint. With the solution able to support all versions of SharePoint including Office 365's SharePoint Online, CardioLog Analytics is an entity of its own right.
For an insightful demonstration and view of the CardioLog Analytics solution at the SharePoint Technology Conference in Boston, visit booth 102. The team of experts will gladly present the solution to you.
For more information, please contact info(at)intlock(dot)com or call: +1-617-500-8461 (US).
One of the CardioLog Analytics team representatives will respond within one business day.