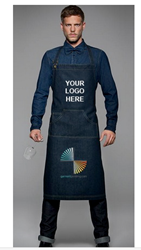 Our clients need an edge, we find this edge to give our clients what it takes to beat the competition.
London, Barcelona, Berlin (PRWEB UK) 11 September 2014
With its wide range of clothing partners, Garment Printing is always ahead of competition when it comes to spotting & creating new trends. Denim has made a transition this year. With airy bleached denim shirts dominating this year's spring, denim becomes darker and more elegant now that fall approaches quickly.
Garment Printing's new denim collection does not only consist of denim shirts and jackets, but also of aprons, ties, bow ties, espadrille shoes and bags.
Denim is highly customisable and opens a whole new range of possibilities, from elegant designs to casual fashion prints on denim shirts and jackets or even embroidered denim-work wear. This collection allows fashion brands the freedom to get creative and at the same time creates a new opportunity for printed work wear clients to make the staff clothing and team work wear look much more trendy and professional.
The new denim range customised with embroidery make the perfect couple, as they are both high quality, long lasting and reasonably priced. Other possibilities include screen-printing or transfer printing for very colourful designs. Garment Printing are also running test prints on DTG Direct To Garment Printing to this denim collection, so "watch this space" says Garment Printing Director Gavin Drake. "Our clients need an edge, we find this edge to give our clients what it takes to beat the competition."
The denim collection is now available – just in time for Jeans for Genes Day on September 19th. Garment Printing will again show its engagement in charities, and offer a 50% discount, as well as a donation of 25% of all profit on denim sales during the week of the 15th to the 19th of September.
About Garment Printing
Garment Printing is an industry-leading international promotional and customised clothing company that aims to maximise the efficiency of marketing teams and agencies through its integrated, global supply chain. Garment Printing offers a complete range of bespoke personalised t-shirt printing techniques including screen printing, embroidery, direct-to-garment and the latest dye sublimation t-shirt printing technology combined with express turnaround and excellent customer service. Garment Printing's agency work involves consultation with global brands, marketing teams and promotional agencies to ensure all printed clothing campaigns are realistic, within budget and effective. Its dedicated team act as extended members of the client's business to efficiently exceed customer and client expectations. For more information visit our website, follow us on LinkedIn, Facebook and Twitter.