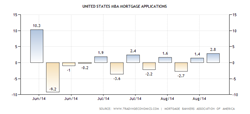 mortgage applications have not risen for 2 consecutive weeks in over 4 months!
(PRWEB) August 28, 2014
Lenders like Peoples Home Equity were exuberant to see that weekly mortgage applications rose for a second consecutive time. On a monthly basis lenders will are waiting to see July Pending home sales this morning, released by the National Association of Realtors (NAR) this morning.
According to the Mortgage Bankers Association (MBA) on the morning of Wednesday, August 27th, mortgage applications rose 2.8% for the week ending on August 22nd. The refinance share of activity rose to "56 percent of total applications, the highest level since March 2014, from 55 percent the previous week." Perhaps what helped fuel an increase in applications was that mortgage rates declined? The rate on a 30-year convention loan size of $417,000 or less declined to 4.28% from 4.29%. FHA loans of 30-years or more also declined to 3.98% from 3.99%. That said, Jumbo loan rates actually increase to 4.22% from 4.18%. The increase in Jumbo loan rates was not surprising given that they have been showing a relatively lower rate than conventional 30-year loans for much of 2014. Overall this data from the MBA was uplifting for lenders to see given that mortgage applications have not risen for 2 consecutive weeks in over 4 months! An environment where mortgage applications are rising while mortgage rates are declining is set to increase home sales in the future.
As for home sales in the past, July pending home sales from the NAR are set to be released this morning in just less than 2 hours. Pending home sales showed a disappointing decline of -1.1% in June, Peoples Home Equity is expecting a rebound for July. Lawrence Yun, chief economist at NAR said during the June pending home sale report "that he tight credit conditions are deterring a higher number of potential buyers from fully taking advantage of lower interest rates." To serve as a reminder, the areas that were hardest hit for pending home sales in June were the Northeast and south, respectively declining -2.9% and -2.4%. Meanwhile the Midwest, where Peoples Home Equity centers much of its business rose 1.1% which the west "inched 0.2 percent." Since the June pending home sales report, weekly home sale figures have continued to rise in July, Peoples Home Equity is confident pending home sales will reflect an increase in July.
Be sure to stay tuned to PeoplesHomeEquity.com for post report comments under the lenders "news" link. Also, if in need of a mortgage contact a Peoples Home Equity loan officer today at: 262-563-4026