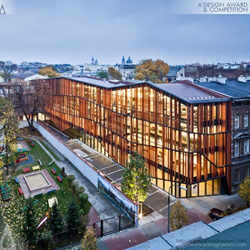 Como, Italy (PRWEB) August 28, 2014
A' Design Award and Competition is pleased to announce that the design Malopolska Garden of Arts by Ingarden & Ewý Architects has been announced as a winner of the Platinum A' Design Award in Architecture, Building and Structure Design Category.
More on Malopolska Garden of Arts
Ingarden & Ewý Architects, the creative team behind the awarded work Malopolska Garden of Arts said "The MGA is a culture venue with a performing arts center and a mediatheque, located in 19th-century urban block in Kraków. The form is a contextual game of mimesis and abstraction. It draws inspiration from the context by making references to the roofing geometry and tissue of the nearby buildings, the ceramic elevation refers to their brick façades. The building fits in the scale of its environment by maintaining the roof lines and divisions of the historical façades. Due to its abstract and free composition it has created a modern architectural sign in historical surroundings" Learn more about this design: http://www.adesignaward.com/design.php?ID=34088
Team Members for Malopolska Garden of Arts (MGA)
Malopolska Garden of Arts (MGA) was conceived by Krzysztof Ingarden-author, Jacek Ewý-collaboration, Piotr Urbanowicz, Sebastian Machaj, Agata Staniucha, Jakub Wagner, Piotr Hojda, Bartosz Haduch, Bogdan Blady, Maciej Szromik, Anna Kula, Sylwia Gowin, Marta Brańska, Piotr Kita, Krzysztof Stępniak, Piotr Chuchacz- K3 Architekci s.c., Benedykt Bury- K3 Architekci s.c., Rafał Chowaniec- K3 Architekci s.c., Agnieszka Cwynar-Łaska- Pracownia s.c. and Marta Spodar- Pracownia s.c.
The Platinum A' Design Award
The Platinum A' Design Award is a prestigious award given to top 1% percentile designs that has achieved an exemplary level of excellence in design. Entries to the International A' Design Award & Competition are evaluated by a 50-person jury panel of prominent scholars, press members, architects and design professionals. Laureates of the A' Design Award are granted a series of PR and publicity services such as inclusion in World Design Rankings and Designer Rankings to help celebrate the success of winning the accolades. Each awarded team also gets the special award trophy, and receives an exclusive invitation to join the glamorous gala-night in Como, Italy.
About A' Design Award and Competitions
A' Design Award and Competition aims to highlight the excellent qualifications of best architectural designs, design concepts and design projects worldwide in order to create a global awareness for good design practices and principles. A' Design Award and Competition is organized and awarded annually and internationally in a wide array of categories to reach a design-oriented audiences from across the globe. To learn more about the A' Design Awards visit: http://www.whatisadesignaward.com