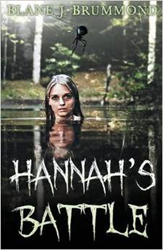 Inspired by his own journey with diabetes, Brummond shares a story of hope with the thousands of children diagnosed with juvenile diabetes every year.
PONCA, Neb. –
(PRWEB) August 28, 2014 -- Learning that you've got diabetes is hard to hear no matter how old the patient is, but it's especially difficult for children just discovering who they are. Hannah Biel feels like the weight of the world has been put onto her shoulders with the crushing news, but as this new novella reveals, her illness may be the least of her worries. Her father disappears while the two are hiking in Ponca State Park, and she'll need to call on new allies from the fairy world if she hopes to get him back.
"Hannah's Battle" interweaves the realities of Hannah's struggle with diabetes and a classic tale of good vs. evil when she encounters a creature that threatens to destroy everything she loves. Her adventure starts when she and her father become separated while hiking. Soon after she meets a wood sprite, guardian of the park, who is in a desperate situation. Hannah bravely rescues her at considerable personal cost. She finds herself preparing to battle with the Feng, a horrible creature that resembles a giant spider, and surrounds herself with an army of fairies, pixies, gnomes and the wood sprite. Can she find the courage to heed the call for action or will her whole world change forever?
Blane Brummond's debut novella spins a fairy tale that shows what can happen when someone finds the courage to battle personal struggles. Inspired by his own journey with diabetes, Brummond shares a story of hope with the thousands of children diagnosed with juvenile diabetes every year. He aims to bring understanding to those touched by the disease, especially children who believe it's more important to fit in than to openly acknowledge their challenges.
Author Blane Brummond, who was diagnosed with juvenile diabetes when he was 25, is a veteran of the U.S. Army Airborne Rangers. While fighting the disease, he graduated from college and law school, driving himself even in his interests: college wrestling, skydiving, mountain biking, Kung Fu and one professional MMA cage match. Brummond, who grew up in South Dakota, lives in Ponca with his wife, Karen, and five children.
----------
For additional information, please visit http://www.HannahsBattle.com
Hannah's Battle
Blane Brummond
Dog Ear Publishing
ISBN: 978-1-4575-2870-5
108 pages
$9.99 US
Available at Ingram, Amazon.com, Barnes & Noble and fine bookstores everywhere.
About Dog Ear Publishing, LLC
Dog Ear Publishing offers completely customized self-publishing services for independent authors. We provide cost-effective, fast, and highly profitable services to publish and distribute independently published books. Our book publishing and distribution services reach worldwide. Dog Ear authors retain all rights and complete creative control throughout the entire self-publishing process. Self-publishing services are available globally at http://www.dogearpublishing.net and from our offices in Indianapolis. Dog Ear Publishing – self-publishing that actually makes sense.