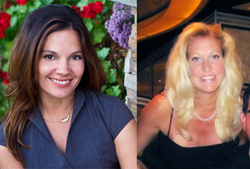 Boca Raton, FL (PRWEB) August 29, 2014
Leading U.S. technology company TouchSuite, continues to work towards its goal to double its staff by 2015 with the addition of two new associates to its fast-growing sales team. Julie Soviero and Leilani Rivera have been appointed as business development associates for TouchSuite, representing the company in Miami-Dade and Broward County, respectively, to develop new restaurant and salon clients for its highly-advanced point of sale solutions, as well as payment processing and capital advances for businesses in a wide range of markets.
Julie Soviero's career started in corporate America where she enjoyed a strong relationship with a variety of Fortune 500 clients. Julie then provided independent consulting in the areas of marketing, branding and sales, consistently implementing successful, high-impact strategies for her clients and greatly surpassing sales quotas. With all of her professional success, Julie considers her greatest accomplishment in life to be her family, consisting of two incredible young boys and a loving husband. Julie is also an active volunteer at the Susan B. Anthony Recovery Center in Hollywood, Florida, where she serves as Treasurer of its Auxiliary Board and is committed to helping to make a difference in the lives of the women and children that reside there. Julie was honored as one of the 100 Most Outstanding Women of Broward County for her achievements.
Leilani Rivera spent the first part of her career in retail sales and marketing in her home state of California before venturing out with a partner to launch Rivera Ink Specialty Marketing & Promotions, a boutique agency designed to provide marketing support for small and medium sized businesses. In 2012, Leilani relocated to South Florida to expand her business, which is how she spent the past few years before joining TouchSuite. Outside of the office, Leilani is an active member of the South Florida community. She sits on the Hospitality Committee for the Aventura Marketing Council and is active in the Fort Lauderdale Chamber.
About TouchSuite: TouchSuite is one of America's leading technology companies focused on the electronic payment space and has been honored five times on Inc. Magazine's "Inc. 500" list of the fastest growing private companies in America. Its award-winning, patented point of sale systems are fully integrated with payment processing and credit card services catering to restaurants, salons and spas. The systems are designed to help small- and medium-size merchants increase revenue by using the provided tools and solutions. The company's latest salon POS system, Firefly, offers the most advanced salon software on the market to-date, including full mobile capabilities. TouchSuite's sales infrastructure provides merchants and agents with an unprecedented 24/7 support system and ensures a positive user experience. TouchSuite is headquartered in Boca Raton, FL. For additional information about TouchSuite, its company and services, please visit http://www.touchsuite.com.