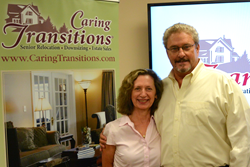 Tequesta, FL (PRWEB) August 28, 2014
David Jones and Rhonda Cunha are looking forward to bringing professional senior relocation and estate sale services to the area with their new business, Caring Transitions of Jupiter.
Caring Transitions is America's largest resource specializing in managing senior relocations, downsizing and estate liquidations. In addition to the organizing, packing and move oversight, Caring Transitions can handle on-site and online estate sales, preparing homes for market and more. Caring Transitions of Jupiter serves Jupiter, Tequesta, Stuart, Hope Sound, Palm Beach Gardens, North Palm Beach and the surrounding communities.
Rhonda, originally from East Hampton, New York, has worked in business for 40 years. She has a wealth of experience in office management and human resources as well as a knack for customer service she built while managing two marinas in East Hampton.
"I heard about Caring Transitions through a franchising email and, after doing some research, found that this was an organization I truly wanted to be a part of. I enjoy helping the elderly people in our community. Many have a real need of assistance with every day aspects of life. We live in an area with a large older population and we see the need every day. We're looking forward to helping them in a meaningful way," Rhonda said.
David was born and raised in Germantown, Tennessee and worked as a direct writer before opening his own insurance agency, which he sold a few years ago. He's excited about getting back into business here in Florida.
"I'm looking forward to getting back into business with Caring Transitions. As my parents aged, I saw the need for the services Caring Transitions offers. My own experiences with my parents helped me realize this was something I wanted to do," David said. "I have always had the desire to help people, particularly our seniors. In addition to our services, we'll also be able to partner with assisted living facilities, realtors, attorneys and other professionals through Caring Transitions who can all work together to help seniors and their families in their time of need."
In addition to the physical services Caring Transitions provides, each Caring Transitions franchisee is a Certified Relocation and Transition Specialist, a designation bestowed by an independent organization that evaluates providers of senior relocation services. The company is trained, bonded and insured. All employees are corporately trained and background checked. This new franchise will bring several new jobs to the area as the business grows.
"As we build our staff, we'll be looking for people who are truly concerned with the senior population. We are here to help seniors and their families with all aspects of relocation and estate sales from start to finish and we need people who are committed to their wellbeing," David said.
"We're both excited about being part of a business that can make a real difference in the lives of seniors and their families in our community. Contact us today to see how our services can make relocating or liquidating an estate more painless than you can imagine," he added.
David and Rhonda also are active volunteers and help with an annual charity event, including a golf outing to benefit Ernie Els for Autism. David also coached youth baseball with the Palm Beach Gardens Youth Athletic Association for more than a decade.
Founded in 2006, Caring Transitions has been a trusted and highly respected national company leading the way in senior relocation, household liquidations and estate sale management in more than 150 locations across the United States. Caring Transitions is part of the International Franchise Association, the Small Business Association's Franchise Registry, VetFran and Minority Fran.
For see how Caring Transitions of Jupiter can help you and your family, call 561-320-0205, email rcunha(at)caringtransitions(dot)net or visit http://www.CaringTransitionsofJupiter.com.
About Caring Transitions
Caring Transitions, founded in 2006, is the first national franchising concept specializing in Senior Relocation and Transition Services. With locations throughout North America, Caring Transitions provides clients with expert advice plus a well-executed transition plan beginning with the initial sorting of personal belongings through packing, shipping and selling of items to the final clearing and cleaning of the property. For more information, visit http://www.caringtransitions.com.