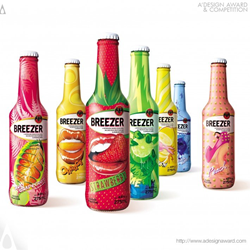 Como, Italy (PRWEB) August 28, 2014
A' Design Award and Competition is pleased to announce that the packaging design project Breezer Be Bold by Interbrand Shanghai Consumer Brand Team has been acknowledged with the coveted Platinum A' Design Award in Packaging Design Category among numerous other nominations.
Regarding Breezer Be Bold
Interbrand Shanghai Consumer Brand Team, the creative team behind the awarded packaging design project Breezer Be Bold said, "Interbrand was briefed to create Breezer's first-ever Limited Edition that screams internationality, sets its sights on the China market, and be irresistible to young females. The challenge was to keep the design uniquely true to the essence of each flavor, and yet still relevant to our female audience. The solution was a spontaneous physical interaction with each fruit's appearance and texture, like squeeze a lime, so it is relevant to the product category. A twist was added to transform each bottle a special personality that reflects the bold and daring characteristics of female." To learn more visit: http://www.adesignaward.com/design.php?ID=34049.
Creative Team for Bacardi Breezer Be Bold
Bacardi Breezer Be Bold packaging was designed by Executive Creative Director René Chen, Associate Creative Director Yolanda Tang, Designer Natalie Ng, Design Director Bono Yu, Senior Designer Vivian Chan, Senior Implementation Specialist Seven Wang, Associate Client Director Oam Martin, Client Manager Jean Chen and Motion Aaron Wan.
The Platinum A' Design Award
The Platinum A' Design Award is a prestigious award given to top 1% percentile designs that has delivered an exemplary level of quality in design. Entries to the International A' Design Award & Competition are carefully evaluated and peer-reviewed by a 50-person expert jury panel of prominent academics, design professionals and media members. Entries are voted on pre-determined evaluation criteria, and the projects that receive the highest scores are highlighted as winners. Laureates of the A' Design Awards are granted a series of PR and publicity tools to help celebrate the status of winning the accolades such as an exclusive interview with the designers. Award winners are also invited to join the exclusive gala-night and award ceremony in Italy to collect their trophies and certificates. Award winning projects are also exhibited in Italy as well as other locations throughout the world.
About A' Design Award and Competitions
A' Design Award and Competition is an annual international design award and competition that aims to highlight the very best design projects in all disciplines from all countries. The A' Design Awards annually publishes the World Design Rankings. The ultimate aim of the A' Design Accolades is to create a global awareness for good design practices and principles by highlighting the best design work worldwide. Learn more about the A' Design Competition at http://www.whatisadesignaward.com.