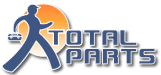 ... I feel it is Uniweld's responsibility to educate technicians on using the proper tools and procedures to ensure optimum safety ...
Ft. Lauderdale, FL (PRWEB) August 28, 2014
HVACR technicians in Guatemala City, Guatemala were introduced to 2 of Total Parts premium product offerings on Wednesday 20 August. Richard Apodaca, Director – International for Uniweld and Antonio Garcia, Sales Engineer for Danfoss, both gave an overview of their respective product lines. Both presenters agreed on the importance of empowering technicians with the advances made in the HVACR industry. Key talking points included the importance of properly selecting their equipment to properly install, service, and maintain customer air conditioning and refrigeration units; this allows for optimum performance and hassle free operation.
Uniweld's Richard Apodaca stated, "In most Central American countries, HVACR technicians often select a cheaper option and in doing so, may circumvent some of the proper guidelines and installation procedures required by the equipment manufacturer, as well as risking the proper performance of the equipment with lesser quality product. As a manufacturer, I feel it is Uniweld's responsibility to educate technicians on using the proper tools and procedures to ensure optimum safety and performance of the equipment." The technicians attending the event were appreciative of the information presented. Hugo Carrera of Refri Aire stated: "Thank you and congratulations for the information presented. I will be implementing some of the procedures which you reviewed."
One such "cheaper option", is not using nitrogen when brazing the HVACR system's copper tubes. By not using nitrogen while brazing, scale build up forms inside the copper tube which can cause blockage in the expansion valve and other components of the air conditioning and refrigeration system, resulting in premature failure. Uniweld offers it's Nitrogen Sludge Sucker® / Blaster® kit which provides multiple uses, such as purging and pressure testing copper tubing, calibrating pressure controls, cleaning condensate drain lines, and much more. During the brazing process, the kit can be used to flow nitrogen through copper tubing to displace the oxygen within the copper tubing so that scaling does not form, thus protecting the integrity of the system. When technicians see Uniweld's video, "Brazing With Nitrogen," (available in English or Spanish) it becomes clear to the technicians how systems can fail without properly flowing nitrogen through the copper tubes.
Total Parts is dedicated to providing quality products, and to excel in their level of support and service to their customers. Without a doubt, Total Parts will be conducting additional seminars throughout the region.