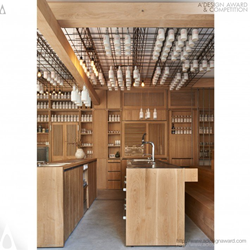 Como, Italy (PRWEB) August 28, 2014
A' International Design Award is pleased to announce that the interior design work Gamsei by Buero Wagner won the famed Platinum A' Design Award in Interior Space and Exhibition Design Category.
About Gamsei
Buero Wagner, the creative team behind the awarded work Gamsei interior design said, "When Gamsei opened in 2013, hyper-localism was introduced to a field of practice which had till then been mainly confined to the food scene. At Gamsei, ingredients for cocktails are either wildly foraged or grown by local artesian farmers. The bar interior, is a clear continuation of this philosophy. Just like the cocktails, Buero Wagner procured all materials locally, and worked in close collaboration with local manufacturers to produce custom-made solutions. Gamsei is a wholly integrated concept that turns the event of drinking a cocktail into a novel experience." Learn more: http://www.adesignaward.com/design.php?ID=34068.
Creative Team for Gamsei
Gamsei interior project was designed by Wagner Fabian A. and Kreft Andreas.
The Platinum A' Design Award
The Platinum A' Design Award is a prestigious award given to top 1% percentile designs that has achieved an exemplary level of excellence in design. Entries to the A' Design Award and Competition are peer reviewed and anonymously judged by a grand jury panel consisting of 50 professional designers, academics as well as press members. Laureates of the A' Design Award & Competition are granted an exclusive winners' kit which includes a series of PR and Publicity services such as article feature at DesignAmid design magazine in addition to inclusion in world design rankings and exclusive interview with the award winning designers. Laureates are also invited to attend the glamorous gala-night and award ceremony in Italy to collect their award trophies, certificates and the hardcover yearbook of best projects.
About A' Design Award and Competitions
Since its establishment, the A' Design Award and Competition has awarded brands, companies, architects and designers from 78 countries, highlighting their work to the rest of the world by featuring the award winners internationally. The ultimate aim of the A' Design Award & Competition is to push designers, artists and architects worldwide to come up with superior project that contribute to society, the A' Design Awards also aims to create a global awareness for good design by featuring excellent design work. Learn more about A' Design Awards at http://www.whatisadesignaward.com.