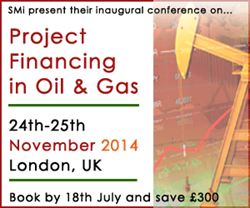 (PRWEB UK) 29 August 2014
SMi Group are delighted to announce that Mirae Ahn, Structured Finance Manager, BP, will be presenting at the Project Financing in Oil and Gas Conference, taking place in London, on the 24th-25th of November 2014.
In her unique presentation entitled "Corporates approach to funding: BP View" Ms. Ahn will discuss structures, risk-reward sharing and group finance vs project finance.
Join Project Financing in Oil and Gas-2014 and be part of a major networking opportunity providing effective interaction with leading experts from international oil and gas companies, financial institutions, lawyers and consultants. Event attendees will hear about project financing expressed from the view of the lenders from around the globe. The diversity of companies representing all aspects of PF will enable delegates to have a broad spectrum of ideas and opinions to use on their own projects.
Other Key Speakers Include:

Robert Clews, Head of Oil, Gas & Petrochemicals, Project Finance, SMBC Europe
Caroline Smith, Head of Oil, Gas & Petrochemicals PF Execution, SMBC Europe
David Craig, Head, Project and Structured Finance Branch, UK Export Credit Finance
Richard Chatterton, Associate, Bloomberg New Energy Finance
Andy Brogan, Partner, Global Oil and Gas Transactions Leader, Ernst & Young
Adam Cooper, Partner, Simmons & Simmons
Dolan Hinch, Director, Deutsche Bank
Martin McAspurn-Lohmann, Executive Director, Head of Oil & Gas, Santander
Charles Whitney, Partner, Norton Rose Fulbright LLP
John Pothecary, Managing Director, RPS Energy
Edward Jankowski, Director of Commercial and Gas, RPS Energy
Liam O'Keeffe, Managing Director, Credit Agricole CIB
Rob Nesbitt, Director, Structured Finance, RBS, plus many more.
To download the complete event programme including all speakers and their presentation details, please go to the event website http://www.smi-online.co.uk/2014pfoilgas47.asp.
There will also be the interactive full-day post-conference workshop "Reserves and Resources - A Guide to PRMS", hosted by RPS Energy.
Project Financing in Oil and Gas - 2014 is proud to be sponsored by DNV GL.
Supported by Bloomberg New Energy Finance and Oil & Gas Financial Journal.
For more information, please visit the event website http://www.smi-online.co.uk/2014pfoilgas47.asp.
Alternatively, contact Sajid Goraya on +44(0) 207 827 6148 or e-mail sgoraya(at)smi-online(dot)co(dot)uk.
Sponsorship enquiries- contact Alia Malick, Director, via amalick(at)smi-online(dot)co(dot)uk or you can call +44 (0) 207 827 6168.
About SMi:
Established since 1993, the SMi Group is a global event-production company that specializes in Business-to-Business Conferences, Workshops, Masterclasses and online Communities. We create and deliver events in the Defence, Security, Energy, Utilities, Finance and Pharmaceutical industries. We pride ourselves on having access to the worlds most forward thinking opinion leaders and visionaries, allowing us to bring our communities together to Learn, Engage, Share and Network. We hold events in over 30 major cities throughout the world including London, Paris and Singapore and to date have welcomed over 200,000 participants from 80 countries.
More information can be found at http://www.smi-online.co.uk.