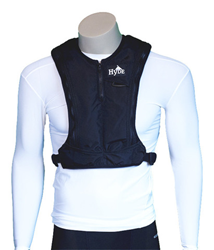 St. Louis, MO (PRWEB) August 30, 2014
Hyde, a premium manufacturer of water safety products, addresses one of the world's leading causes of death, drowning, through the introduction of its new swim safety vest, the Wingman. The Wingman is a new American-made inflation vest designed to exceed the capabilities of all existing life jackets and allow swimmers to rescue themselves in an emergency.
As boats, surfboards, and kayaks have seen huge advancements in technology and brought millions of new users to the water, the life jacket industry has remained stagnant and hasn't evolved much further than the foam and nylon. Humanity has been able to do amazing things with the advancement of technology but still struggles to keep its children safe when at the swimming pool. The Wingman is Hyde's answer to this age old problem and is the first product designed to make all swimmers their own lifeguard.
With a thickness of one centimeter, the Wingman feels virtually non-existent during use by swimmers, surfers, and boaters; if a user is in distress, he or she simply has to pull a ripcord to inflate a military-grade bladder and float to the surface. The vest is sleek, comfortable, and can be used over and over again.
Addressing the Issue
In the United States alone, over 4,000 people drown each year and contribute to an estimated 359,000 annual drowning deaths worldwide. Hyde believes that widespread use of the Wingman and products like it will help to prevent many of these avoidable tragedies.
In recent years, the U.S. Coast Guard has received reports of over 4,604 boating accidents; in these accidents 3,153 boaters were reported injured and 672 died. The majority of these boating deaths (72%) are caused by drowning, with 88% of victims not wearing life jackets. Analysis of the water-sports industry suggests many water enthusiasts choose not to wear their life jacket because they find it too bulky and uncomfortable. Research indicates that life jackets could have reduced the number of boating fatalities by 50%. Hyde created the Wingman in response to these trends so that water sports enthusiasts no longer have to choose between comfort and safety.
Hyde developed the Wingman after the company's founders witnessed the pain caused by a fellow participant drowning during a triathlon in 2012. The sport of triathlon has undergone explosive growth in the last decade and race organizers have had a difficult time ensuring the safety of participants as shown by twelve U.S. triathlon swim deaths recorded during that same year. The Hyde founders searched and found no swim safety products that met their needs and decided to make it themselves. As the design progressed, it became apparent that the Wingman's utility would extend far beyond the world of triathlon and would be great for all activities around the water. The team saw direct applications in other activities like surfing, standup paddle boarding, and kayaking.
The vest's sleek, low profile design and innovative functionality make the Wingman the first life jacket you will want to wear and the last life jacket you will ever need. It's the first vest offering swimmers the opportunity to swim without restriction while enabling them to rescue themselves. Hyde believes that no matter how many lifeguards and parents are on duty, the risk always remains that someone can't see or reach a swimmer in distress. As such, the best defense against drowning is making every swimmer his or her own lifeguard and giving them the ability to rescue themselves.
Hyde Sportswear
Hyde is a St. Louis-based outdoor equipment and apparel manufacturer founded in 2012 to bring innovative thinking and design to the outdoor products industry. Hyde received an Arch Grant to introduce the Wingman in 2014 and help reduce the number of unnecessary drownings that occur each year.