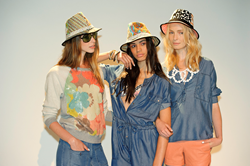 "Our intention is to fill the gap between publications that can afford to send a team to cover Mercedes-Benz Fashion Week, and bloggers and lifestyle magazines that can't" says Melissa Shea, Founder of FashionMingle.net
New York, NY (PRWEB) August 28, 2014
Working with an experienced team of Mercedes-Benz Fashion Week credentialed photographers, videographers, and fashion reporters, FashionMingle.net will be providing daily trend coverage featuring fashion designer interviews, backstage and behind-the-scenes commentary, and runway collections from the tents at Lincoln Center.
The FashionMingle.net team consists of industry professionals from New York, New Jersey, and Texas who will be providing media partners with daily trend reports from the runway as well as professional runway and backstage photography.
There are three packages to choose from, which include a free package designed for bloggers and online magazines who would like to keep their readers up on the trends coming down the runway. Two other packages provide year-long access to the team's professional photography for use in articles and social media, as well as a package for media outlets that wish to have unique content ghost written for the magazine's editors.
"Our intention is to fill the gap that currently exists between publications that can afford to send a team to cover Mercedes-Benz Fashion Week, and bloggers and lifestyle magazines that would like to offer quality fashion week content to their readers but don't have the means to provide it" says Melissa Shea, Founder of FashionMingle.net and a credentialed member of the MBFW press for 9 seasons.
Leading the team from inside the tents is Shalanda Turner, Style Editor for FashionMingle.net and founder of the Houston Bloggers Association. Turner, who is a top fashion blogger who reports from fashion events around the country, will be providing daily trend reports from the runway and conducting interviews with designers and stylists. New York based fashion photographer, Jane Kratochvil, a veteran fashion week hair and makeup photographer will lead the team's photography efforts backstage and on the runway, and video producer Michelle Harding of New Jersey will film backstage interviews and capture runway video and post show interviews for FashionMingle.net's Ticket to the Tents video series.
Those interested in becoming a NYFW Media Partner and receiving daily trend content, designer interviews, and the "Ticket to the Tents" video series should visit the FashionMingle.net website for more information.
About FashionMingle.net
FashionMingle.net is a fashion content provider and a network for fashion entrepreneurs to share, discover, and mingle. The network creates a platform for fashion entrepreneurs to promote their services and grow their business.