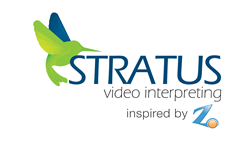 Receiving national recognition from Inc. magazine is always a great accomplishment, but our biggest mission is improving the care of every U.S. citizen in need of language services.
Clearwater, FL (PRWEB) August 28, 2014
Video Remote Interpreting (VRI) company Stratus Video Interpreting was recently ranked by Inc. magazine on its 33rd annual Inc. 500|5000, an exclusive ranking of the nation's fastest-growing private companies. In spite of the damage inflicted upon the U.S. economy by the Great Recession, Stratus—which remains dedicated to increasing language access for non-English speaking refugees and immigrants to the United States—officially met the specific criteria a company must meet in order to be even considered eligible for the Inc. 5000 award, and ranked #3,827.
Despite a still-recovering economy that has proven difficult for many businesses to survive, Stratus officials report that revenue increased 556% from 2012 to 2013. Furthermore, the company is on target to increase revenue by 310% from 2013 to 2014. When questioned about the main contribution that led to Stratus' recognition by Inc., CEO Sean Belanger maintains that Stratus' continued success is largely a result of its VRI technology, which combines the benefits of face-to-face interpreting with the convenience of on-demand interpreting—a solution that not only simplifies communication but also cuts costs without sacrificing service.
"Receiving national recognition from Inc. magazine is always a great accomplishment, but our biggest mission is improving the care of every U.S. citizen in need of language services," said Belanger.
Stratus has also been very vocal in pushing for nationwide standardization with regard to language services within healthcare and court systems, which the company deems necessary due to the rising diversity of the U.S. population—as of 2011, the U.S. Limited English Proficiency (LEP) population had reached 25 million, an increase of 81% since 1980. (1)
According to Stratus President David Fetterolf, interpreting today is now a $2 billion dollar industry, where VRI is the new technology which will rapidly replace $1 billion of the market from face-to-face and OPI interpreting. In its continual effort to provide effective interpretation services to those who need them, Stratus recently acquired Capiche, a company which represents the forefront of modern interpreting systems and offers the first WebRTC-based interpreting platform that connects LEP individuals with interpreters. The integration of the Capiche platform will expand Stratus' technical capabilities into WebRTC, a leading edge communications platform, and will provide critical technology enhancements to meet the rapidly growing demand for VRI.
Stratus specializes in the medical field and court interpreting, but the company's technology is applicable to every industry. Stratus employs experienced, highly-qualified, certified interpreters who can either be used to supplement an existing interpreting infrastructure or to replace live and over-the-phone interpreters altogether with their VRI system.
For more information about Stratus and its services, visit http://www.stratusvideo.com.
About Stratus Video Interpreting:
Stratus Video Interpreting provides on-demand interpreter services by using technology to connect clients with interpreters in over 175 spoken and signed languages in less than 30 seconds. Stratus' cloud-based video solution delivers an array of unique features to virtually any Internet-enabled PC, Mac, smartphone or tablet. Stratus clients use the technology to connect with their own staff interpreters, as well as with Stratus interpreters, who have years of healthcare and courtroom experience and hold multiple certifications. With Stratus, state-of-the-art video remote interpreting is made available with virtually no capital investment. Stratus averages 65,000 video calls a day, up from 40,000 in mid-2013. Stratus Video is the sister company of The Z® (CSDVRS, LLC, dba ZVRS), which was established in 2006 and developed by and for deaf and hard of hearing individuals, setting the industry standard as the nation's premier Video Relay Service Provider and the first VRS Provider to receive a 5-Year certification from the FCC. For more information, visit http://www.stratusvideo.com.
1.Whatley, Monica, and Jeanne Batalova. "Limited English Proficient Population of the United States." Migrationpolicy.org. N.p., 25 July 2013. Web. 3 June 2014. migrationpolicy.org/article/limited-english-proficient-population-united-states.