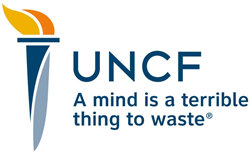 Houston, TX (PRWEB) August 28, 2014
UNCF (the United Negro College Fund), is proud to announce that Mayor Annise Parker will host and serve as the keynote speaker for its UNCF Mayor's Luncheon on Friday, August 29, 2014 at the Hyatt Regency in downtown Houston. The Luncheon will bring together business, civic and education leaders to support UNCF's work to create a college ready culture that provides students with the support they need to get to and through college. The event proceeds will create operating support for UNCF's Texas-based Member Institutions and scholarships for economically disadvantaged college students attending UNCF member institutions and other fully accredited U.S. colleges and universities.
"Today, when having a college education is more important than ever, investing in our young people's futures is critical if we are to be competitive in today's economy. UNCF works to ensure our future leaders have the opportunity to obtain the college degrees they need, and our nation needs them to have," said Michael L. Lomax, Ph.D., UNCF president and CEO. "Today, we are continuing that investment right here in Houston, and it is one that will pay dividends for Houston, and for all of us."
The Houston UNCF Mayor's Luncheon is made possible by the following Sponsors:

o Air Liquide
o Citgo;
o Wells Fargo;
o CenterPoint Energy
o H-E-B;
o Shell Oil Company.
The Luncheon is also supported by the following Special Friends:
Brentwood Baptist Church;
Church Without Walls;
Jackson Walker, L.L.P;
Sysco Corporation.
In addition to Mayor Parker's keynote speech, UNCF's president, Dr. Michael Lomax will speak along with Larry Elizondo, manager, Corporate Social Responsibility Government and Public Affairs, CITGO Petroleum Corporation, Cha'Mira Keener a graduate of Wiley College and South Texas School of Law student and Elizabeth Campbell, partner, Andrews Kurth LLP and chair of the local UNCF Leadership Council.
"We and the students we serve are thankful to Mayor Parker for her passionate and committed support through her participation in events such as this Luncheon and our upcoming UNCF Walk for Education," said Juana Collins, area development director, UNCF. "She knows well that Investing in better futures for our young people benefits our local communities, and it is critical that we all make that investment now."
For more information, please contact the UNCF office: (713) 942-8623 ext. 8677 or via email at: jewell.bass(at)uncf(dot)org.
About UNCF
UNCF (United Negro College Fund) is the nation's largest and most effective minority education organization. To serve youth, the community and the nation, UNCF supports students' education and development through scholarships and other programs, strengthens its 37 member colleges and universities, and advocates for the importance of minority education. UNCF institutions and other historically black colleges and universities are highly effective, awarding 21 percent of African American baccalaureate degrees. UNCF administers more than 400 programs, including scholarship, internship and fellowship, mentoring, summer enrichment, and curriculum and faculty development programs. Today, UNCF supports more than 60,000 students at over 900 colleges and universities across the country. Learn more at http://www.UNCF.org. Donations can be sent to UNCF's Houston office: 723 Main Street, Houston, TX 77002 or at http://give.uncf.org/Houston.