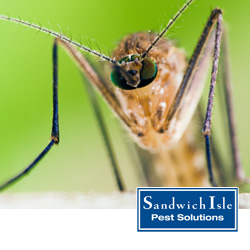 Mosquitoes are not only an annoyance, they are very dangerous. They are responsible for more human deaths than any other insects.
Honolulu, HI (PRWEB) August 30, 2014
Hawaii offers its residents beautiful landscaping, ocean views, sunshine, and warm weather; because of this most people want to be spending their time outdoors in the paradise they call home. However, one small, buzzing, tiny insect can put a damper on what could be a wonderful day spent outside, the mosquito. Mosquitoes are problematic for people all across the United States, even for those of us lucky enough to be living in Honolulu.
"Mosquitoes are a widespread issue all across Oahu and Honolulu. Mosquitoes are not only an annoyance, they are very dangerous. They are responsible for more human deaths than any other insects. Mosquitoes spread diseases that include dengue fever, malaria, encephalitis, and of course West Nile Virus." states Michael Botha, President of Sandwich Isle Pest Solutions.
Sandwich Isle Pest Solutions is very aware of the dangers associated with mosquitoes and therefore wants to better help the residents of Honolulu understand these insects and what they can do to protect themselves and family. Below is a guide that Sandwich Isle has put together to answer common questions about these hazardous pests.
What do mosquitoes look like?
Mosquitoes are very small, only about 1/8 - 3/8" long, with one pair of scaled wings that they use for flying. They have a slender body, six long legs and a piercing mouthpart called a proboscis. They are gray to black in color with some white, green or even blue markings.
Do mosquitoes only eat blood?
No, in fact both males and females feed and live off of plant nectar. It is actually only the female mosquito that bites and feeds on blood. She does this in order to get the protein she needs to create her eggs.
Why do I rarely see mosquitoes out during the day?
Mosquitoes are most active at dusk and dawn; this is because generally it is too hot for them to be active during the middle of the day. During the day they can be found resting and hiding in tall grass, shrubs and bushes.
Why do I have a mosquito problem on my property?
There are several reasons that mosquitoes could be attracted to your home and property. They may be coming to feed on the nectar of your plants and flowers. Mosquitoes also could be attracted to your property because of an available water source, as females need water to lay their eggs on. Bird baths, wading pools, wheelbarrows, old tires, cans, bottles, and buckets all provide an excellent area for females to lay their eggs on. Mosquitoes will also travel great distances to search for a blood meal, up to 20 miles in fact. So even if your home doesn't provide a good food or water source for them they may still happen upon you and your property.
How can I prevent mosquitoes and their bites?
Completely preventing mosquitoes is impossible because millions are being born all the time and because of the long distances that they can travel. But doing things like removing standing water from your property, reducing the amount of flowering plants on your property, keeping your lawn trimmed short, and avoiding spending time outdoors at dusk and dawn can help to reduce your contact with them.
Professional help from experts that know and understand the mosquito will also help to reduce their numbers around your home. Sandwich Isle Pest Solutions are leaders in the reduction of mosquito populations with our abatement programs. Sandwich Isle professionals will design a customized integrated pest management program that will fit the needs of your unique property.
Mosquitoes are a dangerous pest that you should not have to live with, and with Sandwich Isle's mosquito control solutions you won't have to. Contact us today for more information about mosquitoes and how our professionals can help protect you and your family from them.
###
Sandwich Isle Pest Solutions is based out of Pearl City, HI, on the island of Oahu. For more information about Sandwich Isle Pest Solutions and their animal control services, visit http://www.sandwichisle.com.