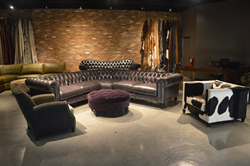 "At COCOCO we offer today's updated styles you might find at national chains such as Restoration Hardware or Mitchell Gold, but we will enable our Atlanta furniture shoppers a high level of customization typically seen at only the most expensive stores
Atlanta, Georgia (PRWEB) August 29, 2014
Web-based, direct-to-consumer, custom furniture manufacturer and retailer COCOCO Home, inc. continues to expand their bricks and mortar footprint with the opening of their third showroom; this one in the heart of Atlanta's Buckhead design district.
The 2500 square foot showroom, located at 3072 Early Street at West Paces Ferry close to the soon-to-open Buckhead Atlanta development, is located in Robin Loudermilk's newly re-developed Pearson's Corner project which is also home to casual men's clothier Onward Reserve. Men's shoe retailer Allen Edmonds will be opening as the final tenant later in September.
The COCOCO Home showroom has a selection of the company's popular leather and fabric furniture including pieces from their signature Chesterfield furniture line highlighted by a dramatic radius corner Chesterfield sectional in Mont Blanc "Galaxy" from Moore & Giles. Moore & Giles leathers make up one of the highlights of the new Atlanta furniture store; a wall of over twenty full hides of leathers in a rainbow of colors. Steve Sechrest, COCOCO's CEO, believes this will provide their Atlanta furniture customers a unique opportunity to experience leather in the way the artisans in COCOCO's North Carolina furniture factory see the hides. "When we go to shows and look at leathers we see them not as a small sample, but as a full, natural hide. We think seeing the full hides will help our customers appreciate the qualities that make some of these leathers so special." There are more than twenty different leather styles and when the numerous color selections available in each style are factored in, the leather options available through COCOCO Home number in the hundreds.
COCOCO Home is a leader in utilizing new fabric technologies from American fabric companies Sunbrella and Bella Dura. These Solution Dyed fabrics are durable, fade resistant and cleanable while showing the character of natural fibers. Domestically woven 100% cotton velvets available in a wide selections of colors are popular with tufted pieces such as the Chesterfield and Irish linens are a classic option.
COCOCO Home's furniture styles will generally come in a range of lengths from a chair to a loveseat to a sofa and on to a sectional. Their classic tufted Chesterfield style comes in 17 lengths from a 44" chair to a 144" XL sofa and many sectional components. Sechrest says sectionals in any of their styles are a specialty. "We believe we have a greater ability to scale our sofas and sectionals to fill space than any other furniture company" says Sechrest. That ability to customize size and finishes is part of what sets COCOCO Home apart from traditional furniture sellers. "At COCOCO Home, you will see today's updated styles that you might find at national chains such as Restoration Hardware or Mitchell Gold, but we will enable our Atlanta furniture shoppers a high level of customization not available in those stores and typically seen at only the most expensive furniture stores."
COCOCO Home, inc. began making furniture in 2009 as The Comfortable Couch Company. Founded by Steve Sechrest, his wife Danielle, and their partner Gary Mangione, the company began branding their furniture with the COCOCO Home label in 2011.
The Company plans to continue to look for opportunities to grow their showroom presence in its primary markets. Sechrest says "We believe we have a unique retail experience to offer that is simply not available at the national chains. He indicates they are currently looking at possible locations in New York, Toronto, Austin and Los Angeles. "While the vast majority of our customers order from us over the phone without ever sitting on one of our couches, we recognize that there is an appetite for the complete showroom experience with the huge color selections and the opportunity to sit on some of the styles," says Sechrest.
The Buckhead showroom officially opens on August 30. 404-410-1169