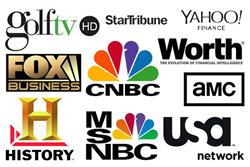 SafeMoney.com helps seniors achieve retirement security and peace of mind
Cherry Hill, NJ (PRWEB) September 02, 2014
For aging and retiring investors, the pathway to financial security can be stress-inducing and uncertain. Safe Money Resource recognizes this and is committed to empowering them with the knowledge and expert guidance they need for achieving a solid retirement income.
In recent months, Safe Money Resource has been stepping up efforts to educate seniors, baby boomers and financial advisors about the value of annuities for generating a guaranteed lifetime income. As part of its outreach, its trusted online resource for retirement planning and locating qualified independent financial specialists, SafeMoney.com will be appearing in short educational segments on many leading television networks and cable channels this fall.
Safe Money Resource President Brent Meyer said the segments are one of many ways retirees are being connected with timely information about different safe financial products at their disposal.
"Across the United States, there are thousands of people who are uncertain about whether they will have enough money in their retirement. Many feel anxious about the future and the steps they should take to achieve lasting financial peace," explained Meyer, who co-founded Safe Money Resource in 2006. "That's the purpose of SafeMoney.com— equipping them with a comprehensive information resource for planning their retirement. There, investors can also locate a qualified, independent financial advisor in their area. Together, they can come up with a financial plan that's carefully suited to specific financial needs and goals."
Earlier this summer, the "Leading Edge Series with Jimmy Johnson" produced a five-minute educational segment on SafeMoney.com. It created a one-minute segment showcasing the Safe Money Resource's independent network of financial advisors, as well.
The SafeMoney.com segment will be scheduled for unlimited broadcast on public television stations nationwide, where it is slated to reach 60 million viewers over a year.
SafeMoney.com will also be featured in the segment in varying points during peak time and prime-time on CNBC, CNN, CNN Headline News, The Learning Channel, Family Net, Discovery Channel, and other channels.
A one-minute educational segment about how SafeMoney.com helps seniors achieve retirement security and peace of mind will also be broadcast prime-time in over 84 million homes via MSNBC, CNBC, and CNN.
Meyer explained how SafeMoney.com is a one-stop education center for information on pressing financial topics for today's investors. "There's lots of need-to-know information on there, with articles on all types of annuities, life insurance, long-term care insurance, Social Security benefits, IRAs, retirement income planning principles, estate planning basics, and so much more."
SafeMoney.com also offers investors access to a small network of independent advisors who have been carefully vetted for professional ethics, integrity, and capable financial expertise. Through the extensive "Safe Money Approval" process, individuals wanting to join Safe Money Resource's network are confirmed to be client-driven professionals.
For client-minded financial advisors, Meyer said Safe Money Resource represents a powerful opportunity for networking with baby boomers and retirees needing expert assistance in mapping out their future.
"We offer extensive resources for helping financial services professionals stay up-to-date on the financial services marketplace. We also have a capable support network in place to help you grow your practice," Meyer elaborated. "Our 'Safe Money Approved' professionals are individuals with strong records of helping their clients reach their financial objectives. We definitely welcome inquiries from any financial advisors wanting to contact us and discuss how we can offer value."
For more information about Safe Money Resource's upcoming educational segment roll-out, please visit: http://www.safemoneyresource.com/marketing/safe-money-on-air.