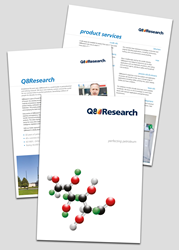 Q8Research is ideally placed to provide the very best support to customers in the 80+ countries worldwide (Q8Research Coordinator - Adri van de Ven)
Leed, UK (PRWEB UK) 9 September 2014
The primary activity of Q8Research is supporting its sister companies within the Kuwait Petroleum Corporation group. However, due to its increasing cooperation with bodies such as trade organisations and Original Equipment Manufacturers, Q8Research is now undertaking further work on a selective basis with external partners and the company has produced a new 12-page brochure highlighting and promoting these capabilities.
The 40+ scientists and support staff working at Q8Research test 50,000 samples and conduct 350,000 analyses per year and are responsible for the specification of materials and products, legislation compliance and quality control. The facility also provides product testing, certification and quality control services to Q8's refineries, which involves problem solving, optimising the daily operation of each unit and employing the latest test techniques.
Another Q8Research responsibility is the development of cost-effective product formulations for lubricating oils, prime products, aerosol propellant and bitumen. Many of these are derived from the Kuwait Export Crude (KEC) base stock – which boasts a consistency and quality that cannot be matched by any other company – and provides Q8 with the perfect feedstock for refining some of the world's finest base oils and petroleum-based derivatives for the automotive, marine, industrial, metalworking and energy sectors. Q8Research is also an expert on the management of aviation fuels.
Commenting on the facility and its services, Q8Research coordinator Adri van de Ven says: "We have been perfecting petrochemical-based products for 50 years and our holistic approach to research and product development means that Q8Research is ideally placed to provide the very best support to customers in the 80+ countries worldwide where Q8 sells its products.
"Q8Research has an extensive reputation for influencing and creating pragmatic solutions for a range of industry issues and has, for many years, chaired leading industry bodies and has close working relationships with leading universities, technical institutions and OEMS such as Fives DMS, John Deere, Scania, Siemens and Volkswagen." says Adri.
Q8Research sections work together to create a single unit of expertise and experience. Its laboratory services are complemented by the facility's ability to transform chemical and physical elements into high-performing, cost-effective products. This wide-ranging expertise enables Q8Research to offer consultancy services for many other areas of the petroleum industry such as safety, health and the environment; market data; legislation; and training.
For further information and a copy of the new 12-page brochure email Q8Research(at)Q8(dot)com.