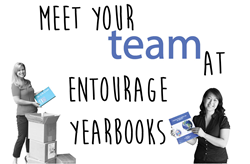 What sets us apart from other graphic designers is our love of working with people.
Princeton Junction, NJ (PRWEB) August 28, 2014
Ever wonder what kind of person most yearbook companies employ? Especially for students that work on a high school yearbook, working for a yearbook company may sound like a dream job. After a recent survey of employees at Entourage Yearbooks, located in Princeton, NJ, it's clear that it takes a diverse group to make a successful yearbook company.
Most yearbook companies are made up of the same core positions. Some are very conspicuous positions that interact daily with the customers, like sales reps, account managers, tech support and billing. All yearbook companies also have a lot of talent behind the scenes as well like press operators, book binders, shipping specialists, and human resources.
But what type of person fills these positions? Entourage Yearbooks account manager Larry Johnson shed some light on what it's like to be an account manager at a yearbook company. "Our whole account management team has years of design experience," says Johnson. "Most of us have a graphic design or fine arts degree. What sets us apart from other graphic designers is our love of working with people."
Johnson explains that unlike a traditional graphic design position, working as a designer in a yearbook company requires a unique personality. "We look for designers who are not only able to design, but to teach as well. It's very important for our account managers to be able to establish relationships with the customers, so we all have pretty strong communication skills as well."
Ashley Profita works as a printing manager at Entourage Yearbooks, spending her days with the presses and press operators. Profita shares some insights on the personality traits that most of the production crew at Entourage Yearbooks share. "We're all skilled at working with the machinery that we operate," says Profita. "But beyond the skill, I think you'll find a genuine concern for quality and for our customers."
Profita can recall several anecdotes of production team members going beyond their basic job responsibilities to help a school in need. "One time I remember a school that turned in their book late because the yearbook advisor left unexpectedly for maternity leave. The yearbook staff pulled together to still get the book turned in, so in turn, we ran the presses a little later than usual to make sure that they still got their books on time."
Johnson shared some advice for students interested in pursuing careers at yearbook companies. "A background in design and knowledge of pre-press procedures is pretty useful for any position in the yearbook industry. Really we're all just people that enjoy the process of creating yearbooks."