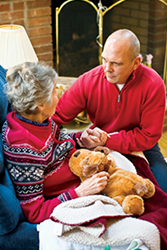 "VNA volunteers give of their time because they recognize that there is perhaps no greater feeling than the satisfaction that comes from knowing you have made a positive difference in the lives of others," Faith F. Scott VNA's President & CEO.
Morristown, N.J. (PRWEB) August 29, 2014
Visiting Nurse Association of Northern New Jersey (VNA) Hospice volunteers play an important role delivering comfort and companionship to terminally-ill patients and their families. As the number of those aging at home continues to grow and their needs expand, the VNA offers this free training program to encourage volunteer participation. The next Hospice Training Program will be offered on Saturday, September 20, 2014 from 10:00 A.M. to 2:30 P.M. at VNA's headquarters, 175 South Street in Morristown.
Volunteering your time and compassion to patients and families in need can be extremely rewarding. Volunteers visit terminally-ill people who have elected to spend their final days in their own homes with the assistance of VNA.
VNA Hospice volunteers say they receive personal benefits through making a positive impact in another person's life:
"I hope I never have to give up one-on-one volunteer work because spending time with VNA clients is the most rewarding and enjoyable role for me."
"I enjoy listening to my elderly clients talk about their life experiences and how the world has changed."
"When some people hear about my work with the Hospice, they wonder why I would want to do that. In reality, I've volunteered in different settings over the years and this is some of the most rewarding work I've ever done."
The training will be presented by VNA's Hospice Team. Please RSVP to Greer Luce at 973-451-4119 or gluce(at)vnannj(dot)org by September 18, 2014. There is no cost to attend and a light lunch will be provided. VNA Hospice volunteers must be 18 years or older, have a valid driver's license and auto insurance.
About the Visiting Nurse Association of Northern New Jersey:
The Visiting Nurse Association of Northern New Jersey is a nonprofit organization with a distinguished 116-year tradition of service. VNA's comprehensive services include skilled nursing, physical, occupational and speech therapy, certified home health aides, hospice care, caregiver support programs, private care solutions and Friendship House, a social adult day care center. Statistics show Americans would prefer to age in place at home. However, few are factoring the cost of home care into their retirement planning. Each day, the VNA of Northern New Jersey encounters seniors who need a helping hand to realize their best quality of life. Many with chronic but treatable medical conditions and routine symptoms of aging aren't eligible for Medicare home care benefits. That's why it's imperative for those who haven't yet reached retirement age to plan ahead for individual needs. The Visiting Nurse Association of Northern New Jersey has devoted more than a century to delivering home health services to the residents of Morris County, NJ and neighboring communities who want to return home following hospitalization or need a helping hand to remain in the comfort of home despite illness, disability or advanced age. For further information about VNA services and guidance in planning ahead for your home care needs, call 1-800-WE-VISIT or go to http://vnannj.org/index.php.
About the Visiting Nurse Association Hospice:
Throughout our history, the VNA has cared for homebound individuals at every stage of life. The establishment of a dedicated hospice program in 1996 was a natural outgrowth of our century-old tradition of providing the finest quality, compassionate care. Our experience and expertise as a comprehensive home care provider makes us uniquely qualified to help patients and their families transition seamlessly to palliative care and hospice care when necessary. In fact, patients who are already under VNA care when their needs change are given the option of continuing to receive assistance from the VNA home care team they are familiar with. The services provided by the team are adjusted and expanded to include end-of-life, hospice support. For further information about VNA hospice support, please call 1-800-WE-VISIT to speak with one of VNA's caring representatives.