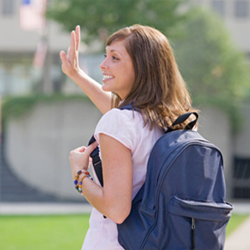 LINCOLN, R.I. (PRWEB) August 28, 2014
As college students head back to school, it's important to think about campus safety. That's why Amica Insurance has five tips to help students stay alert so they can have a safe and enjoyable year.
According to SafeWise, an online source for safety and home security news, approximately 16 million young adults head off to college every year. In an effort to promote campus safety, SafeWise is offering the following tips:

Learn about the campus safety office: Familiarize yourself with its location and the services offered there. The campus safety office is a good place to find security tips and information on campus crime.
Walk with others at night: Have a friend accompany you anytime you're out at night, and stay on well-lit paths. If there is no one around to walk with, contact campus security to request an escort.
Tell someone where you're going: Whether you're heading out for a run or going to the library to study, always tell a roommate or friend where you'll be and when you plan on returning.
Use caution when getting into the car: Be sure to check the backseat before entering your vehicle. Always keep the car locked, and try to park in a well-lit area.
Be aware of surroundings: Avoid wearing headphones and texting while walking from place to place. Walk with confidence and with your head up, and always trust your instincts. Also, make note of where campus emergency phones are located.
About Amica Insurance
Amica Mutual Insurance Co., the nation's oldest mutual insurer of automobiles, was founded in 1907. The company, based in Lincoln, Rhode Island, is a national writer of auto, home, marine and umbrella insurance. Life coverage is available through Amica Life Insurance Company, a wholly owned subsidiary. Amica employs more than 3,300 people in 43 offices across the country. For more information, visit Amica.com.
CONTACT: Vince Burks, Corporate Communications, 50 Amica Way, Lincoln, RI 02865-1155, 800-652-6422, ext. 24563
Twitter: Amica
Facebook: Amica Mutual Insurance Co.