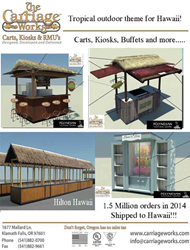 Carriage Works is a huge hit in Hawaii with sales of $1.5 million.
Klamath Falls, OR (PRWEB) August 30, 2014
For decades, Carriage Works, Inc. has been the cart and kiosk manufacturer of choice for the Hawaiian Islands, and that has never been more evident than this year. Carriage Works – the Klamath Falls, Oregon-based designers and fabricators of vending, espresso and coffee carts, buffet, outdoor and indoor RMU's, and food service and retail kiosks for clients like Sea World, Six Flags, Coca-Cola, Horizon Property Group, Ben & Jerry's, Compass/Chartwells, Sodexo and Legoland – is poised to do record-breaking business with Hawaii in 2014 at more than $1.5 million and counting. Carriage Works Inc has been in business 45 years with products all over the world. Carriage Works has been voted No. 1 in the industry year after year.
Located in southern Oregon, just north of the California border, Carriage Works is perfectly situated near seaports for container-shipping of the retail merchandising units, kiosks, coffee carts and espresso carts – both for indoor and outdoor use – that they send to the islands. And unlike neighboring states, Oregon has no sales tax, making Carriage Works the ideal vendor for Hawaiian clients.
Customers from every Hawaiian island have had carts and kiosks shipped from Carriage Works. Espresso carts and kiosks, indoor and outdoor retail merchandising units, smoothie carts, snack carts, ice cream carts, and buffet carts have been custom-designed by their in-house design team and fabricated by their expert craftsman to withstand the ocean air and tropical climate. In the four decades they've been in the industry, their clients have included Aston Hotels & Resorts, Maui Divers, Waikiki Trade Center, Hawaii's Coffee Co., Four Seasons Kona Resort, Sea Life Park, Turtle Bay Resorts, and Marriott Vacation Club of Hawaii, to name a few.
Hilton Hawaiian Village Waikiki Beach Resort was so happy with the buffet carts that Carriage Works fabricated for them many years ago that, when the resort underwent a major "rejuvenation" and they needed to update their Starlight Luau, they reached out to Carriage Works again. The twenty-four unit buffet cart project was completed earlier this year.
Polynesian Cultural Center, another Hawaiian landmark undergoing major renovations, put their trust in Carriage Works' experience and expertise for food service and retail carts and kiosks. The twenty-plus units, designed especially for the Center's new Hukilau Marketplace, are scheduled to be installed at the end of the year.
"Thanks to all the new development and redevelopment over there, the list of our projects from Hawaii just keeps growing," said Carriage Works Founder and President Barbara Evensizer. "When clients find out how long we've been in business and who we've done work for in Hawaii, they know they can trust us with their projects."
Carriage Works offers comprehensive design services, courtesy of their in-house design team expert staff with decades of experience in their wood, metal, paint and powder-coating shops; time-tested fabrication methods using the right materials to ensure their units will stand the test of time and climate; and a dedicated sales team. When it comes to price, experience plays a crucial role, Evensizer says. "We can offer a design to fit almost any budget – and we'll match or beat a written quote from our competitor. Our goal is to make our clients happy. That's why they choose us the first time around. Our quality is why they come back – that, and our customer service. The warranty on customer service never expires!"