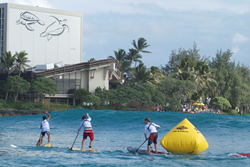 NORTH SHORE, OAHU, HI (PRWEB) August 28, 2014
Situated at the start of the "seven-mile miracle" of legendary North Shore surf, Turtle Bay's 840 acres and 5 miles of oceanfront have served as the home to the Stand Up World Series Finals since its inception in 2012. The resort is also home to the world headquarters of ocean-sports organization the Waterman League, the official organizer of professional competition for stand-up paddle surfing (Stand Up World Tour) and stand-up paddle racing (Stand Up World Series).
In October, the 2014 Stand Up World Series, which kicked off with the Brazil Pro Grand Slam in April, closes with the Stand Up World Series Finals at Turtle Bay. This three-day event will feature a lineup of free public activities including surf demonstrations, awards presentations and a youth clinic, in addition to competition by the world's top elite paddle racers.
Competition will include three categories: Elite Racing, which will feature the long-distance race from Turtle Bay to Haleiwa at 1 p.m. on Saturday, October 11, and World Series Sprints through the surf near the Turtle Bay Pool Bar at 12:30 p.m. on Sunday, October 12; Open Racing, which will feature the long-distance race from Turtle Bay to Haleiwa at 10:30 a.m. on Friday, October 10; and Youth Racing in the protected waters of Kuilima Cove at Turtle Bay at 10 a.m. on Sunday, October 12.
Elite competitors will include Turtle Bay Resort ambassador Kai Lenny, who took top men's honors in a first-place finish in 2013. On Friday, October 10, Turtle Bay's Surfer, The Bar, will host leading global athletes and legendary windsurfer Robby Naish in a World Series Talk Story special event at 8 p.m. A limited number of tickets will be available for sale at the door.
Race registration is available online. A complete World Series Finals schedule and more information will be available at watermanleague.com.
About Turtle Bay: There's one North Shore on Oahu. And there's one resort on it. Ideal for watermen, wave watchers or waders, Turtle Bay is at the epicenter of set after set of activities, events and adventures. Complete with the finest accommodations and amenities suited for the entire family, Turtle Bay is where the "7-Mile Miracle" begins and the lineup is endless. To discover the destination and stay up to date on the Turtle Bay experience, check out Oahusfablednorthshore.com.
Photo Courtesy Hank Fotos / Waterman League.
###
Media Contact:
Elizabeth Fitzgerald
Senior Vice President
TLC PR
Florida: 239.304.8608
Elizabeth(at)TLCPR(dot)com