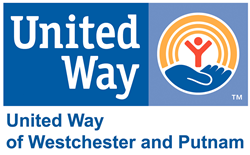 Westchester and Putnam Counties, N.Y. (PRWEB) August 28, 2014
United Way of Westchester and Putnam invites the community to its 52nd Annual Meeting Monday, Sept. 15 to learn about progress made on key community issues and thank those who support the organization throughout the year. The meeting will be held at Putnam County Golf Course from 5 to 6 p.m., immediately followed by United Way's Best Chefs and Fine Wines event.
An awards program and ceremony will honor recipients of United Way's Spirit of Westchester and Putnam Awards, given in recognition of outstanding leadership in the categories of Corporate, Community, Volunteer, and Partnership. United Way will also recognize the 2014-2015 Ruth Taylor Scholarship Awardees.
The Spirit of Westchester and Putnam Corporate Award will be awarded to UPS. Over the last 30 years, local UPS employees have shown tremendous support for Westchester and Putnam through their United Way campaign with a special focus on United Way's 2-1-1 and SmartStart. Over the decades they have volunteered at the board level, special fundraising committees and during days of service. Nationally, UPS has raised more than $1 billion for communities across the country through local United Ways since 1982. Each year, roughly 70 percent of UPS's 400,000 workers contribute to United Way through payroll deductions or other means.
The Spirit of Westchester and Putnam Community Award will be awarded to the Women's Leadership Council Steering Committee of United Way. The 16 influential committee members are joined together by the idea of creating stronger supports for their local communities, focusing on the growing concern of women's financial stability in Westchester. Over the past year, the committee has orchestrated a series of successful fundraising and volunteer events, giving hundreds of hours to teaching resume-writing skills, advocating with local and state politicians, reading to children, and promoting philanthropy.
The Spirit of Westchester and Putnam Volunteer Award will be awarded to the David Yawman, Esq., PepsiCo. Since 2004, Yawman has served on United Way of Westchester and Putnam's board of directors and been an avid supporter and advocate for the organization. He has held the roles of board chair, secretary of the board and member of the Executive Committee. In his position of senior vice president and general counsel, PepsiCo Americas Beverages at PepsiCo, Yawman has been critically important to the promotion of the company's annual employee giving campaign – United Way's largest. Yawman is also an active member of United Way's Tocqueville Society and over the past year has participated in special board level committees including the CEO Search and Governance Review Committees.
The Spirit of Westchester and Putnam Partnership Award will be awarded to The Putnam Community Service Network Partnership, comprised of Cornell Cooperative Extension-Putnam County, The United Way-Pace University NFP Management Center and the Putnam County Personnel Department. This partnership has provided a series of workshops to hundreds of nonprofit professionals with much-needed hands-on technical training, significantly increasing the skills and capacity of their organizations. In 2013, 148 staff and board members attended workshops, addressing topics such as "Becoming a New Supervisor," "Managing Multiple Priorities in a Stressful Environment" and "Diversity DNA."
"Our Annual Meeting is an opportunity for United Way of Westchester and Putnam to recognize our supporters and honor those who have made an exceptional difference in our area," said Alana Sweeny, president and CEO, United Way of Westchester and Putnam. "We look forward to celebrating a year of accomplishments with the community."
For more information about the Annual Meeting, or to register, visit http://www.uwwp.org/annual-meeting.shtml.
About United Way of Westchester and Putnam:
For the past 52 years, United Way of Westchester and Putnam has operated with the fundamental belief that all people deserve a quality education, enough income to support a family, and opportunities for a healthy lifestyle. United Way works with agency partners, government, businesses and community leaders to solve problems that are too complex for any one entity alone. All contributions go toward improving the education, income, and health of the children, youth and families throughout Westchester and Putnam. United Way's Hudson Valley Region 2-1-1, covering Westchester and Putnam as well as Dutchess, Orange, Rockland, Sullivan and Ulster counties, answers up to 500 calls and 1,000 online inquiries per day ranging from tax, heating, and mortgage questions to childcare, basic needs, natural disaster and crisis calls. United Way of Westchester and Putnam is at 336 Central Park Ave., White Plains, NY 10606. They can be reached at 914-997-6700 or by visiting http://www.uwwp.org. Follow United Way on Facebook (http://www.facebook.com/UnitedWayWP) and Twitter (@UnitedWayWP) for the latest news and updates.