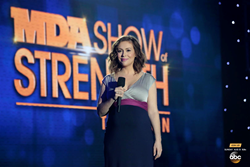 'As a soon-to-be mother of two, supporting charities that help children in any way is something that is very important to me,' said Milano.
Chicago (PRWEB) August 28, 2014
ABC television stars will join forces this Labor Day weekend on the 49th MDA Show of Strength Telethon airing Sunday, Aug. 31, 9/8c on ABC television stations across the country to help raise funds and awareness to help save and improve the lives of children and adults affected by muscle disease.
Viewers tuning into the 2014 telethon to benefit the Muscular Dystrophy Association will enjoy heart-felt appeals and introductions from some of the network's leading stars, including Alyssa Milano of the hit drama series "Mistresses," legendary "All My Children" star Susan Lucci, "Nashville" leading man Charles Esten, "Rising Star" co-mentors Brad Paisley, Kesha, Ludacris and show host Josh Groban, as well as Chris Powell of "Extreme Makeover," "Dancing with the Stars" host Tom Bergeron and "ABC News'" Chief Health and Medical Editor Dr. Richard Besser.
"As a soon-to-be mother of two, supporting charities that help children in any way is something that is very important to me," said Milano. "I came away with such a meaningful experience after meeting MDA families and learning about their courageous 'stories of strength' battling muscle disease. If my involvement with this year's telethon can help raise funds and awareness for those affected, I'm happy to lend my support to help continue the progress in the fight for muscle health."
Milano, who is due with her second child this fall, took her support for MDA behind-the-scenes at the Hollywood Palladium to meet with children affected by muscle disease, which included an exclusive interview with "blue" carpet correspondent15-year-old MDA Ambassador Abbey Umali. Umali, of Redlands, Calif., is affected by Charcot-Marie-Tooth disease (CMT) which causes muscle weakness, lack of coordination and loss of sensation in the upper and lower extremities. Click here to see their interview and learn why Milano supports MDA.
Additionally, MDA's National Goodwill Ambassador Reagan Imhoff, 9, was also invited to a taping of the ABC's new singing competition show "Rising Star" where she was able to work her charm on "co-mentors Brad Paisley, Kesha, Ludacris and host Josh Groban. The musical artists met with Reagan backstage to learn about her role as an MDA spokesperson and how she's helping MDA families, like her own, to fight back against muscle disease.
See more exclusive behind-the-scenes telethon footage from the MDA "blue" carpet with Dr. Richard Besser and Charles Esten.
The 2014 MDA telethon will feature a star-studded celebrity lineup with performances from Grammy® winners Rascal Flatts and LeAnn Rimes, plus Aloe Blacc, American Authors, Bret Michaels, Fall Out Boy, Jason Derulo, Matt Nathanson, R5 and Sara Evans. Additional celebrity presenters on the telethon include Jann Carl, Jordin Sparks, Kevin Frazier, Laila Ali, Nancy O'Dell, Pete Wentz, Terry Fator and Victor Ortiz.
About MDA Show of Strength Telethon
MDA's first Labor Day weekend telethon was broadcast in 1966 on a single New York station and has become the most successful fundraising event in the history of television. The show, with its iconic host Jerry Lewis and with help from a legion of top celebrities and entertainers, has raised millions each year to provide life-enhancing support and services for the families MDA serves. The real stars on the broadcast have always been the MDA families who have graciously agreed to open their homes and hearts to America and tell their stories of strength. This year marks the 49th annual MDA telethon.
In addition to funds contributed by the public, substantial support also comes from MDA's family of national sponsors, whose work throughout the year on behalf of MDA will be recognized on the telethon. Among the sponsors: International Association of Fire Fighters, CITGO Petroleum Corp., Lowe's, Harley-Davidson Motor Co., Jiffy Lube International, National Association of Letter Carriers, The Safeway Foundation, 7-Eleven, Dr Pepper Snapple Group/7UP, Acosta and Burger King.
At the community level, MDA is planning telethon viewing parties with hundreds of local groups to rally support for the more than 1 million Americans it helps with lifesaving support and services.
Funds raised by MDA telethons also have contributed to the organization's worldwide research program. Today, through current clinical trials, there is growing excitement that new lifesaving treatments and discoveries are on the horizon for many of the disorders MDA is dedicated to defeating, including Duchenne muscular dystrophy (DMD), spinal muscular atrophy (SMA) and amyotrophic lateral sclerosis (ALS).
Visit mda.org/showofstrength to learn more about the 2014 MDA telethon.
About MDA
The Muscular Dystrophy Association is the world's leading nonprofit health agency dedicated to saving and improving the lives of anyone with muscle disease, including muscular dystrophy, amyotrophic lateral sclerosis (ALS) and other neuromuscular diseases. It does so by funding worldwide research to find treatments and cures; by providing comprehensive health care services and support to MDA families nationwide; and by rallying communities to fight back through advocacy, fundraising and local engagement. Visit mda.org and follow us at facebook.com/MDAnational and @MDAnews. Learn more about MDA's mission by watching this video.