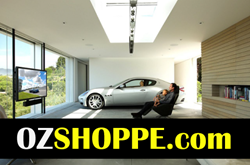 Although LED lighting is slightly more expensive than conventional lighting, its advantages can be tenfold.
(PRWEB) August 29, 2014
In this launch, Ozshoppe will be bringing an online LED shopping facility in Melbourne CBD. LED or Light-Emitting Diode lighting technology has grown by leaps and bounds in the last few years as it is known to offer a lot of benefits to customers. Slowly but steadily, LED technology is replacing conventional lighting like halogen, fluorescent and incandescent bulbs.
Although LED lighting is slightly more expensive than conventional lighting, its advantages can be tenfold. This is where LED modules are more energy efficient as it does not require electricity for any components. Instead, electricity is used for illumination purposes. Apart from that, LED lighting provides better brightness and clarity and flicker-free startup.
There will be 2 main types of products which will be launched in this round which will be LED display and LED bulbs in Melbourne. The former will involve the launching of the P10 LED screen, LED display and LED video display products which will be supplied by BigBright Australia.
The new series of LED display products will be very useful options to be used in retail businesses and commercial offices. The P10 LED screen and LED display can be used in most of these outlets as they provide more a value-for-money and a practical display which can captivate the customers and members of the public.
Another product which will be launched is LED lighting components. This includes LED bulb, the LED halogen lamp and the T8 LED tube. This is the first of many other LED tubes and bulbs which will be launched in the coming months. All the 3 major products launched in this round are perfect and ideal replacements for conventional lighting components. The LED and LED halogen lamp can be used in place of the incandescent and halogen bulbs. This is because the LED options have longer operational life and is more energy-efficient. As a result, using the LED bulbs would be more economical and surely more cost-effective.
Meanwhile, the T8 LED tube is designed to be the replacement for the current fluorescent tubes where it can save electricity of up to 50% as compared to the more traditional tubes. The T8 LED tube launched will surely take the market by storm and Ozshoppe will be offering special discounts and promotions for its online customers for a limited time only.
Another aspect that Ozshoppe will be launching this time around is in outdoor advertising truck in Melbourne. Targeted for businesses and brand owners in Melbourne, there will now be an affordable LED truck and trailer for the surrounding markets where businesses can now use this new and exciting media for advertising and marketing.
There will be many types of LED trucks and trailers available which can be catered to suit all types of businesses. Whether it is a retail outlet, a fast-food chain or a simple gift shop, using the LED truck will expand the advertising message to all types of areas around Melbourne. This is where the LED truck will constantly playback captivating videos and advertisements and travel into areas that are hard to reach using conventional media.
The LED trucks are very mobile and portable while offering a unique method of marketing especially for brands that intend to target a large group of audience in places with high traffic and pedestrians. The LED screens mounted on the trucks can be used as an elevated unipole and would be an ideal option for events and roadshows.