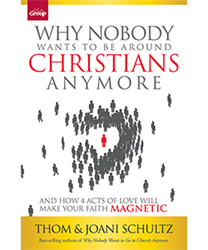 Loveland, Colorado (PRWEB) September 02, 2014
Why Nobody Wants to Be Around Christians Anymore: And How 4 Acts of Love Will Make Your Faith Magnetic, a new book by Thom and Joani Schultz, uncovers the research and proposes how Christians can become magnetic personifications of their faith.
The book offers several practical ways for Christians to live out their faith in ways that break down many of the stereotypes people have about Christians, such as judgmentalism, close-mindedness, hypocrisy and irrelevance. The authors accomplish this through what they call the "4 Acts of Love."
The 4 Acts of Love offered in this book are in direct response to the four primary reasons why people are put off by many Christians:
1. Radical Hospitality is a welcoming response to people's criticism of feeling judged.
2. Fearless Conversation introduces a dialogue that welcomes people's thoughts and doubts.
3. Genuine Humility sends of a message of "we're all in this together."
4. Divine Anticipation offers the promise that God is present and ready to connect in a fresh, new way.
This newly released title is the companion to last year's best-selling book by the Schultzes, Why Nobody Wants to Go to Church Anymore.
About the Authors: Thom and Joani Schultz have spent their entire adult lives serving the church and challenging the status quo. Thom is the founder and president of Group Publishing, a creator of innovative ministry resources for children, youth, and adults. Joani is Group's chief creative officer. Together they oversee Group Cares, a nonprofit organization that's helped nearly 400,000 people serve others around the world. They've also written several best-selling books for church leaders, including Why Nobody Learns Much of Anything at Church.
Publisher: Group Publishing
ISBN: 978-1-4707-1653-0
Release: 9/2014
Pages: 192
Size: 6 x 9
Binding: Soft cover
Price: $14.99
Website: http://whynobody.com