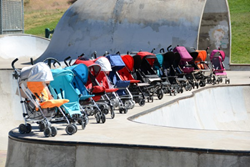 While umbrella strollers look very similar, it is important to know how they are different so you can feel confident you are purchasing one you will love.
Cheyenne, WY (PRWEB) August 30, 2014
To determine winners for the best umbrella stroller awards of 2014, baby product test and review site, BabyGearLab, took 16 of the top-rated products on the market and put them through a variety of tests. In a side-by-side competition, products were rated on their ease of use, maneuverability, safety, weight and folded size, and ease of setup. Results of in-house testing determined which strollers were the best all around, best value, or simply the coolest. Check out the entire review to find out which strollers impressed, disappointed, and won awards.
This review gave awards to 3 winners, and they are:
Editors' Choice was given to the UPPAbaby G-Luxe. The G-Luxe ranked second overall in scoring, and according to Dr. Juliet Spurrier, founder of BabyGearLab, "This stroller offers so many additional features for comfort and convenience, it could possibly work as a primary stroller, as well as a secondary option." Dr. Spurrier goes on to say, "The quality of the G-Luxe impressed us in looks and functionality."
Top Pick for Travel was given to the Quinny Yezz. The Quinny offers an innovative and unique styling that made it stand out in comparison to the competition. Pediatrician, Juliet Spurrier, MD says of the Quinny, "The unique engineering of the Quinny created a stroller like none other in our review and tests. The Yezz is just a pleasure to use. What it lacks in extra features, it definitely makes up for in quality and function."
The Best Value award was earned by the Chicco Liteway. The Liteway offers just about every feature possible, with a price tag most parents can afford. Dr. Spurrier, BabyGearLab founder, said of the Chicco, "The Chicco combines easy to use features with functionality to create a stroller parents and passengers will both love. The budget friendly price makes this stroller a great buy for any family. The fact that it might be able to double as a primary stroller means even more savings."
BabyGearLab tested all of the strollers in a lab setting for a side-by-side comparison under identical conditions. The products were also used by in-house testers who put the strollers through real world scenarios with real children. The results of testing and user input combined to determine the winners by adding up their scores in each test metric.
BabyGearLab also offers a companion article, "How to Choose the Best Umbrella Stroller", which offers buying advice and provides assistance in helping parents determine what to look for before deciding which kind of lightweight stroller to purchase.
More about BabyGearLab:
BabyGearLab.com is an online baby product test and review company founded by a board certified pediatrician, Dr. Juliet Spurrier. The company is committed to quality testing and reviews, designed to provide parents with the information they need to make well-informed buying decisions to find the best products. The website also provides buying guides, and helpful articles on health and safety for children.