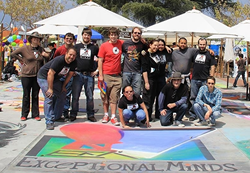 We want to make that big difference so many families need today.
Sherman Oaks, California (PRWEB) August 28, 2014
With the lack of funding for autism programs now reaching a flashpoint, online jeweler Trumpet & Horn is taking matters into its own hands. This family-owned, online jeweler known for its one-of-a-kind vintage and vintage inspired rings announced today that it will donate a percentage of every sale through August 2015 to Exceptional Minds, a vocational school for young adults with autism.
"It's a huge commitment for an organization our size, but we've made this exceptional contribution because we see how autism affects our customers and our community as a whole. We want to make that big difference so many families need today," says Trumpet & Horn founder Jerry Heidenreich, who, as a close family friend of an Exceptional Minds student, has witnessed firsthand the value of the school's vocational program for preparing these young adults for careers in the digital arts.
Exceptional Minds opened its doors in 2011 as a nonprofit organization to prepare young men and women on the spectrum for careers in movie post-production and other digital arts fields. Unique to the school is its specialized curriculum providing its students with certification training and testing on key software programs as well as paid work experience in the field, including post-production work on films Dawn of the Planet of the Apes, American Hustle and Lawless.
Despite the lack of government funding for such programs, and with a higher cost per student than comparable schools, Exceptional Minds has successfully grown its student population three-fold in as many years. Full-time student tuition is set at 50% of the per-student cost of what it takes to operate the school, the balance funded exclusively by individuals and organizations like Trumpet & Horn.
"The biggest fear as the parent of a child with autism is what happens when the school bus stops coming. Very little is available to help these young people become productive citizens, and government funding for these types of education programs are nonexistent. We're changing that at Exceptional Minds with the help of people like Jerry," says Mollie Burns Keith, a gemologist whose son, PK, attends Exceptional Minds part-time where she also sits on the board of directors.
Through August of 2015, Trumpet & Horn will donate a percentage of the sale price on select jewelry to Exceptional Minds, for a minimum of $10,000 annual contribution, in order to provide needed funding for the school's 40+ full-time, part-time and tutored students who are all on the autism spectrum.
Trumpet & Horn joins Adobe Systems, Autism Speaks, Kayne Anderson Foundation, the Academy of Motion Picture Arts and Sciences, and many others in support of Exceptional Minds.
Trumpet & Horn is an online store specializing in authentic vintage engagement rings, Rolex® watches and other fine jewelry; all sales are satisfaction guaranteed and rings with a center diamond over 0.25ct come with full certification from EGL or GIA, as well as an independent appraisal from a graduate gemologist/certified appraiser for insurance purposes. Customers can view the store's inventory and shop online at http://www.trumpetandhorn.com.