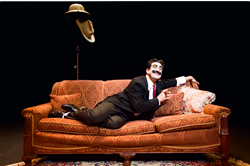 The New York Times described Ferrante as "the greatest living interpreter of Groucho Marx's material."
Owings MIlls, MD (PRWEB) August 29, 2014
On Saturday, November 22, the Gordon Center for Performing Arts will host An Evening with Groucho, celebrating Groucho Marx, the legendary comic genius, with a performance by internationally-acclaimed Marx impersonator Frank Ferrante.
Julius Henry "Groucho" Marx was one of the best comics of the modern era, a quick-witted film and television star known and beloved in the U.S. and around the world.
Known for his own comic brilliance, Frank Ferrante will deliver to the Gordon Center a re-creation of his PBS, New York and London acclaimed portrayal of Marx in An Evening with Groucho, a rollicking 90 minutes of Groucho improvisation.
The New York Times described Ferrante as "the greatest living interpreter of Groucho Marx's material." A two-act comedy, An Evening with Groucho consists of the best Groucho one-liners, anecdotes and songs. In grand Groucho style, you will literally become a part of the show as Ferrante ad-libs and invites audience participation throughout the performance.
Accompanied by his onstage pianist, Ferrante portrays the young Groucho of stage and film and reacquaints us with the likes of his brothers Harpo, Chico, Zeppo and Gummo, as well as Charlie Chaplin, W.C. Fields, Margaret Dumont and MGM's Louis B. Mayer.
For a preview of An Evening with Groucho, please go to: http://vimeo.com/96208690.
"We are thrilled to have Frank Ferrante visit the Gordon to perform An Evening with Groucho for us," said Randi Benesch, Managing Director of the Gordon Center. "We are going to be belly-laughing so hard we are going to be crying. This is a great show in honor of a truly gifted comic talent, by another truly gifted talent, and we are all very excited to 'partake' in Mr. Ferrante's performance."
Tickets are $27 in advance; $31 at the door, and may be ordered online at http://www.gordoncenter.com. The Gordon Center is located on the campus of the Rosenbloom JCC at 3506 Gwynnbrook Ave., Owings Mills, MD 21117. The Box Office can be reached at 410.356.7469.
The Peggy and Yale Gordon Center for Performing Arts is Baltimore County's premiere arts destination. The Gordon Center offers an eclectic variety of professional entertainment in music, theater, dance, family programming and film. You will experience world-class acoustics in an intimate, state-of-the-art venue. Free parking in well-lit spaces, handicap accessible, and equipped with a special RF system for the hearing impaired, the Gordon Center can be enjoyed by all.