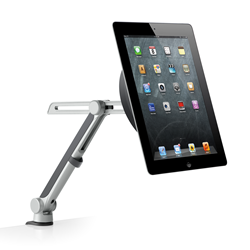 "For 20 years, Innovative has designed monitor arms which change with way you interact with your computer monitor. Now with Tablik, we're changing the way you interact with your tablet PC."
Easton, PA (PRWEB) September 02, 2014
Innovative Office Products (http://www.lcdarms.com) has officially Tablik™, a flexible tablet desk mount that changes the way users interface with their tablets at work and in the home office.
Tablik is the first purpose-built tablet desk mount arm on the market featuring a revolutionary design that was created with the user in mind. With Tablik, users benefit from the best in flexibility, functionality and ergonomic comfort.
The tablet arm easily attaches to desks or monitors and can be repositioned for comfortable viewing, typing, dual screen computing or as an input device. Tablik can mount any tablet and case for easy accessibility and hands-free use. With a grab and go interface, Tablik allows for one handed attach and release of the tablet to compliment a mobile workflow.
"The Innovative Office Products company philosophy is to create solutions for our customer that enhances the way they use technology while adhering to rigorous quality standards and environmental ethics. For 20 years, Innovative has designed monitor arms which change with way you interact with your computer monitor," says Joe Tosolt, CEO of Innovative. "Now with Tablik, we're changing the way you interact with your tablet PC."
Tablik undergoes cycle testing that exceeds BIFMA testing standards for technology mounting devices and is constructed with 99% recyclable materials. Tablik is assembled in the U.S.A. and is backed by a three year warranty.
Debuted for the first time at NeoCon 2014, Tablik was honored with the prestigious Best of NeoCon silver award through Contract Magazine.
View the Tablik desk mount video for an in depth product tour. For more on Tablik, visit http://www.lcdarms.com/tablik-desk-mount.php or contact a representative at 800-524-2744.
About Innovative Office Products
Innovative Office Products is an award winning market leader of monitor and tablet mounting solutions designed and manufactured to provide the best in flexibility, space savings and ergonomic benefits. Innovative leads the way in exceptional quality by combining product performance with award winning design. All products are tested to meet or exceed BIFMA standards and are backed by a manufacturer's warranty. Innovative strives to reduce environmental impact through standard design and manufacturing procedures. Innovative assembles products in the U.S.A. at their manufacturing facility in Easton, PA.
For more about Innovative Office Products visit: http://www.lcdarms.com or follow us on Facebook, Twitter, Google+,LinkedIn, and our blog.
###