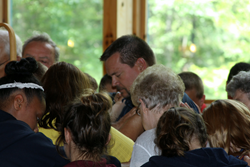 Hersey, MI (PRWEB) September 01, 2014
Pastor Thompson is an ordained minister and previously worked as a Quality Care Specialist at Eagle Village. He is a licensed minister through the Church of the Nazarene and has pastored several churches over the past twenty years in New Mexico, Colorado and North Dakota. He and his wife Heather will celebrate 24 years of marriage this year. He also has two beautiful daughters, Brianna, 22 and Bethany, 17. He holds a B.S. in Pastoral Ministry from Nazarene Bible College, in Colorado Springs and is currently pursuing his Masters of Divinity through the Nazarene Theological Seminary, which is located in Kansas City, Missouri. Pastor Thompson's ministry vision is based upon Romans 12, where we are challenged to become "living sacrifices", to allow God to change the way we think and not to conform to the motivations of this world.
Eagle Village was founded in on Christian principles and continues to incorporate these values and teachings into the programs provided to youth and families. Area clergy and other members of the community attended the service and welcomed Pastor Thompson into his new role.
Eagle Village is a non-profit family treatment center providing Intervention Services and Camps, Residential Treatment, Foster Care and Adoption services for all counties in Michigan. If you know of a family in crisis that may benefit from these programs contact Eagle Village at 231-832-2234 http://www.eaglevillage.org, Facebook or Twitter.