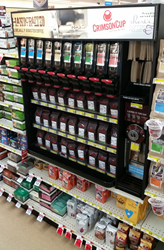 "This new partnership represents one more way that Crimson Cup supports the success of our independent coffeehouse and specialty grocery customers. We believe we succeed only when our customers succeed." -Greg Ubert, Crimson Cup Coffee & Tea
Columbus, OH (PRWEB) August 29, 2014
Coffee lovers in Norwalk, Ohio now have two options for enjoying hand-roasted coffee from Ohio roaster Crimson Cup Coffee & Tea. They can order handcrafted beverages from Sheri's Coffee House at 27 Whittlesey Ave. or buy fresh-roasted beans from Gardner's SUPERVALU grocery store at 117 Whittlesey Ave.
Crimson Cup recently installed a display in Gardner's SUPERVALU that showcases its wide range of sustainably sourced coffees. Customers can choose from bulk, whole-bean coffee, bags of ground coffee and recyclable single-serve capsules.
Crimson Cup's relationship with Gardner's came about through Sheri Thomas, owner of Sheri's Coffee House. Sheri's has served Crimson Cup beverages since it opened in 2004.
"We're excited to expand our specialty grocer distribution through a unique partnership with a local independent coffeehouse," said Greg Ubert, founder and president. "We believe the partnership will generate awareness about our coffee and the two local businesses – creating a winning proposition for all involved."
This new relationship allows the owners and managers to share ideas and create cross-promotional events and programs. For example, they plan to introduce a coupon program offering customers a discount at Sheri's when they purchase a bag of coffee at Gardner's.
Since installation of the Crimson Cup display, Gardner's SUPERVALU has seen an increase in bulk and packaged coffee sales. The independent grocer also has raised awareness in the community that it supports other local businesses.
"This new partnership represents one more way that Crimson Cup supports the success of our independent coffeehouse and specialty grocery customers," Ubert said. "We believe we succeed only when our customers succeed."
Crimson Cup has built a community of over 200 independent coffee shops through its Seven Steps to Success coffee franchise alternative program. Over the past year, 15 new independent coffeehouses have joined the community.
"We offer all of the benefits of a coffee shop franchise without the costly fees and headaches," Ubert said. "Our program covers everything you need to succeed, from choosing a location to buying equipment, hiring and training staff, marketing your business and much more. Plus, we offer ongoing support to make sure our customers keep growing."
Crimson Cup's support for specialty grocers begins with an in-depth assessment of each store's local market and business goals. The roaster supplies over 80 specialty grocers with more than 50 varieties of specialty coffee. Offerings include organic, Fair Trade and directly-sourced coffees from small farms in the world's finest growing regions. In addition, the company provides distinctive displays and marketing materials for in-store merchandising. Grocers also receive promotional strategies tailored to the interests of their consumers and their communities.
About Crimson Cup Coffee & Tea
Since 1991, Crimson Cup Coffee & Tea has hand-roasted specialty coffee in Columbus, Ohio and taught independent business owners how to succeed through its coffee shop franchise alternative program. Sustainably sourced Crimson Cup coffee is available through a network of more than 350 independent coffee houses, grocers, college and universities, restaurants and food service operations across 28 states, as well as the company's own Crimson Cup Coffee House in the Columbus suburb of Clintonville. For more information, visit crimsoncup.com.