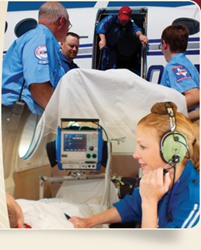 The ROI (Return On Investment) is very fast - our Aladtec system paid for itself in less than a month.
Amarillo, TX (PRWEB) August 28, 2014
The medical team at Apollo MedFlight continually looks for new technologies to provide the best service available to serve the patients they transport. Their administration team also seeks ways to improve their organization's efficiencies and processes to keep everything moving quickly and effectively. With this aim in mind, they recently moved from scheduling staff on a spreadsheet to Aladtec's online employee scheduling and workforce management system. This technology choice allows them to make the administrative side of their business be as efficient as their service side.
"I used Aladtec when I was with a previous employer and liked the user interface and that the system is customizable. When Apollo MedFlight grew enough to necessitate using a scheduling and workforce management software system - I recommended Aladtec. Since using Aladtec, we save about 12 hours a week in scheduling time - so in the course of just one month - we save more than 40 hours in labor. The ROI (Return On Investment) is very fast - our Aladtec system paid for itself in less than a month," shares Brandon Leasure, Program Director, Apollo MedFlight, Amarillo, TX.
Leasure points out another important benefit of going with Aladtec - the employee gets more control over their schedule. "With Aladtec, the scheduling is employee driven, verses manager driven. They can submit availability, pick-up open shifts and make trades all within the system," adds Leasure. "And, the best part is we can all access the system from anywhere since it's completely online; we can even log-in from our smartphones, which makes it easy to take a quick look at our big picture info."
Aladtec recently added the ability to create and submit sophisticated custom forms within the system. Administrators have a wide range of control over the form layout, and form permissions, as well as the ability to create custom reports for tracking their form submissions. The new Forms feature is well integrated with the Aladtec system and it's great for tracking work orders, vehicle check lists, inventory control, employee evaluations, incident reports, etc.
According to Leasure, the Forms feature has helped them move towards a paperless office because all of their forms are now within their Aladtec system. "We created all of our daily forms throughout the company within Forms. Now all of our forms are filled out and stored online. This allows us to remain compliant with our daily forms while significantly decreasing the man hours required to process, track and pull reports from the data collected on paper forms. Now, we can pull those reports from our Aladtec system. We are very pleased with the Forms feature; it has met our expectations for simplifying data collection."
Beyond the Forms feature and online scheduling advantages, Leasure states that Apollo MedFlight values a number of other things about Aladtec including: the member database, time clock, payroll integration, mass messaging and the affordable monthly subscription. Since the subscription rate is based on how many people an organization schedules through Aladtec, it remains fairly priced for companies of all sizes. Leasure also points out that it's much easier for a small company to handle an annual subscription, with a quick ROI, instead of a large up-front capital investment.
About Apollo MedFlight: Apollo provides 24-hour emergency and non-emergency air medical transport throughout the Texas and Oklahoma panhandle as well as eastern New Mexico. Apollo is a fully licensed air ambulance company with a combination of top quality aircraft and medical equipment, paired with an extraordinary aviation team and medical specialists. To learn more about Apollo MedFlight, please visit http://www.apollomedflight.com.
About Aladtec: Aladtec is the proud provider of online employee scheduling and workforce management software. Well over 1200 organizations, from a variety of industries, count on Aladtec every day to help them save time and improve efficiency. For information about Aladtec's affordable industry specific options, or to try a free trial, please visit http://www.aladtec.com.
###
CONTACT INFORMATION:
Aladtec, Inc.
906 Dominion Drive
Hudson, WI 54016-4538
(888) 749-5550 Toll-Free
(715) 690-2300 Phone
(801) 406-5550 Fax
mellissa(at)aladtec.com
info(at)aladtec.com http://www.aladtec.com