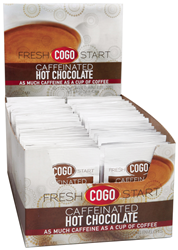 Columbia, SC (PRWEB) September 09, 2014
People who enjoy caffeine's refreshing qualities now have a hot chocolate alternative to help them get their day started and keep it running. This will be good news for people who have had to quit drinking coffee because of acid related heartburn issues or for people who don't care for the taste of either coffee or tea and have had few alternatives to turn to for a hot, caffeinated beverage. COGO will also be appreciated by people who love hot chocolate and would welcome having more choices for a hot caffeinated beverage to select from.
COGO also provides significant savings for those who might normally visit their local coffee vendor for a morning mocha fix.
USDA data for hot chocolate lists its average caffeine content as 5mg per serving. COGO hot chocolate provides 98mg of caffeine per serving. The USDA listing for coffee is 103mg per serving, which points to COGO as being a reliable and predictable resource for caffeine refreshment. COGO is 100% hot chocolate and does not contain any coffee.
Something else not in COGO are artificial sweeteners. Currently many of the major hot chocolate brands have begun to replace a portion of the natural sugar in their mixes with artificial sweeteners, and today there is a growing trend to avoid consuming artificial sweeteners. COGO hot chocolate does not use artificial sweeteners, welcome news for many.
COGO is simple to prepare and its single-serve envelopes make it travel friendly. All that's needed to make it is a cup, some hot water and an envelope of COGO. This new hot chocolate way to wake up in the morning or provide a pick-me-up anytime promises to be a refreshment solution that many will find an easy fit for their lifestyles and tastes.
COGO is available at http://www.cogococoa.com or on Amazon.com.