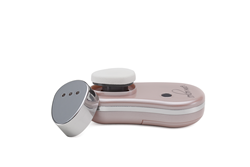 Color Me, a revolutionary makeup application device launched today with ULTA
New York, NY (PRWEB) September 02, 2014
Eric Jimenez and Leah Ashley announced today the launch of Color Me, a revolutionary makeup application device. Designed to improve and accelerate makeup application, Color Me puts clinically proven innovation in the palm of women's hands to help them get flawless in a flashTM.
The secret to Color Me's success lies in its patented technology. With a battery-operated automatic sponge that runs at a rate of 15,000 pulses per minute, the device applies foundation evenly in less than two minutes. Once activated, the sponge, which mimics gentle finger tapping, quickly buffs and blends foundation onto the skin for an even finish.
In an independent clinical study, most women reported cutting application time in half, with improved evenness. An added bonus: this efficient method reduces the amount of product needed, and increases hygiene as the sponges can be replaced after frequent use.
Proving its versatility, the tool can be used with all types of foundation, BB creams and tinted moisturizers as well as concealer, blush, bronzer, highlighter and contouring makeup. Simply swap the old sponge for a new one and begin work on the desired area.
"I created Color Me in response to countless women around the world who wanted to recreate my signature flawless face," says co-founder Eric Jimenez, who traveled extensively as Global Makeup Artist and Chief Retail Sales Officer Worldwide for brands including Urban Decay and Benefit Cosmetics. "I always knew something was missing from foundation application – how can you get a perfect complexion without the mess of an airbrush or dozens of tools? Color Me was designed to solve this problem."
Color Me is launching online at ulta.com and colormebeauty.com as well as in 250 ULTA Beauty stores nationwide.
"We are thrilled to be launching with ULTA Beauty," says co-founder Leah Ashley. "They've long been a leader in specialty beauty retail with sought-after products in both the prestige and mass category. Color Me will be the perfect fit for these savvy shoppers and help them fall in love with their foundation again."
"Color Me is an example of the type of beauty innovation that ULTA Beauty likes to offer our customers first," said Janet Taake, chief merchandising officer. "This exclusive launch reflects our commitment to partnering with new beauty brands to provide customers with exciting products that are first to market."
Color Me's Automatic Foundation Applicator Starter Kit which contains the device and two sponges, one for liquid and one for powder, retails for $54.00 and the Sponge Refill Set of two sponges retails for $9.00.
About ULTA Beauty
ULTA Beauty is the largest beauty retailer that provides one-stop shopping for prestige, mass and salon products and salon services in the United States. ULTA Beauty provides affordable indulgence to its customers by combining unmatched product breadth, value and convenience with the distinctive environment and experience of a specialty retailer. ULTA Beauty offers a unique combination of over 20,000 prestige and mass beauty products across the categories of cosmetics, fragrance, haircare, skincare, bath and body products and salon styling tools, as well as salon haircare products. ULTA Beauty also offers a full-service salon in all of its stores. As of May 3, 2014 the Company operates 696 retail stores across 46 states and also distributes its products through the Company's website: http://www.ulta.com.