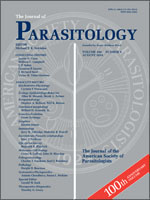 The mortality rate of animals with parasites is more than twice that of animals without parasites...
(PRWEB) August 29, 2014
Journal of Parasitology — Parasites are among the most successful organisms on our planet, and scientists need to know more about how they manipulate their hosts. To boost their chances of survival, parasites may slow the growth of a host, make mating difficult, or weaken the host's offspring. However, the authors of an article published in the current issue of the Journal of Parasitology say such statements are insufficient to describe the effects of parasites.
The authors argue that parasitic manipulations do not just target one area, such as growth or reproduction, but many parasites directly affect the overall form and function of their hosts. In turn, such changes adversely affect host fitness and behavior. In other words, parasites affect whole-organism performance capacity. Performance capacity is the measure of how well an animal executes essential tasks such as how fast a fish can swim or how far a grasshopper can jump.
The authors initially examined 101 studies in which researchers had measured how parasites affect host performance capacity. They then narrowed the study to 49 published papers that had sufficient statistical data.
The parasites' effects on hosts varied depending on factors such as host age, the tissue infected, and whether a study was based on natural infections or experimental. The type of performance affected was also a factor, with parasites more often affecting endurance than speed. In all but a few cases, parasitic infection negatively affected host performance capacity, often significantly. "This result agrees with the general idea that parasites harm or live at the expense of their hosts," the authors wrote. For example, the mortality rate of animals with parasites is more than twice that of animals without parasites, and infected animals may not be able to reach spawning grounds. Consequently, changes resulting from parasitic infections can affect not just the individual host but host populations, ecosystems, and even the evolution of host species.
Full text of the article "Host performance as a target of manipulation by parasites: A meta-analysis," Journal of Parasitology, Vol. 100, No. 4, 2014, is now available.
About the Journal of Parasitology
The Journal of Parasitology is the official journal of the American Society of Parasitologists (ASP). It is a medium for the publication of new original research, primarily on parasitic animals, and official business of the ASP. The journal is intended for all with interests in basic or applied aspects of parasitology as well as in systematics, medicine, molecular biology, immunology, physiology, ecology, biochemistry, and behavior. For more information, visit http://www.journalofparasitology.org.