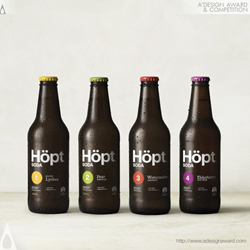 Como, Italy (PRWEB) August 29, 2014
A' Design Award and Competition is pleased to inform that the Hopt wins Platinum A' Design Award in Food, Beverage and Culinary Arts Design Competition.
More on Hopt
Antonia Davison, the project leader of the winning work Hopt says, "Hopt is a delicious clean soda fusing hop extracts with natural flavours and less than half the sugar of leading regular soft drinks. Through 'lean start-up' methodologies like rapid prototyping and extensive quantitative research, Hopt's multifaceted user-centred design unfolded. Over 15 features are built into each bottle, all offering specific benefits to the user considering their functional, social and emotional needs whilst socialising. Crafted by a team across Melbourne, Tokyo and Auckland, including agency partner Shine, Hopt was created in 2013." Learn more at: http://www.adesignaward.com/design.php?ID=34680.
Design Team for Hopt
Hopt was designed by Alastair Kenvyn, Antonia Davison, Paul O'Loughlin, Tamaki Sano, Tsuyoshi Saikachi, Shuichi Maeda, Arch MacDonnell, Christine Vale, Michelle Gardiner and Tamara Radic.
The Platinum A' Design Award
The Platinum A' Design Award is a prestigious design award given to top 1% percentile designs that has achieved an exemplary level of perfection in design. Entries to the International A' Design Award & Competition are peer reviewed and anonymously judged by a 50-person jury panel of scholars, professional designers, and prominent press members. Entries are voted anonymously on predetermined criteria to ensure fair judging.Laureates of the A' Design Award & Competition are granted the A' Design Prize which includes an invitation to join the A' Design Award Gala-Night and Award Ceremony in Italy to collect their trophies, design excellence certificates, and hardcover yearbook of best designs. Award winning works are further exhibited in Mood - Museum of Design in Italy as well as in other countries. Laureates are also included in designer rankings and enjoy international media exposure and coverage.
About A' Design Award and Competitions
A' Design Award and Competition aims to highlight the excellent qualifications of best designs, design concepts and design oriented products worldwide. A' Design Award and Competitions are organized and awarded annually and internationally in a wide range of categories to reach a wide, design-oriented audience. The A' Design Accolades strives to create a global awareness for good design practices and principles by highlighting best design work from across the globe, meanwhile creating initiatives for designers, brands and product manufactuers to come up with superior designs that benefit society. Learn more about the A' Design Awards at http://www.whatisadesignaward.com.