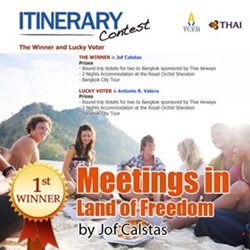 (PRWEB) August 29, 2014
From May to July 2014, MICE organizers, MICE travelers, and the general public from around the world were invited to join the Itinerary Contest, challenging contestants to create a pre- and/or post-trip itinerary in Thailand to introduce attractions and various interesting activities while attending business events in Thailand. Based on the viability and desirability of the entries, five final itineraries were chosen to compete in the final voting round. The itinerary with the most votes would be awarded a free trip to Thailand, which includes exclusive round-trip tickets to Thailand sponsored by THAI Airways International and luxurious accommodations by Royal Orchid Sheraton.
The Itinerary Contest campaign received overwhelming responses with hundreds of entries from around the world. TCEB officially announced the winner on 25 August 2014, who had received the highest votes. The winning itinerary is "Meetings in Land of Freedom" by Jof Calstas, from Switzerland who wrote a well-blended meeting and incentive plan. A 5-day trip has brought business travelers to various places in Thailand including Bangkok: City of Marvels, Chiang Mai: Lush Landscapes, and Phuket: Be Absolutely free; not to forget, a seminar in Bangkok.
Moreover, a lucky voter was randomly selected. Congratulations to Antonio R. Valera from the Philippines. Both the winner and the lucky voter are awarded a free trip to Thailand, round-trip tickets for two from THAI Airways International, 3days 2nights' accommodations at Royal Orchid Sheraton, and a one day Bangkok city tour.
To read the 5final itineraries please visit http://www.businesseventsthailand.com/itinerarycontest