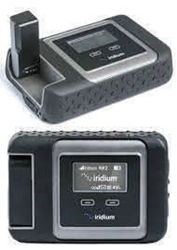 Iridium GO! is the first portable Wi-Fi device that lets you actually use YOUR Smartphone as the satellite phone
Portsmouth NH (PRWEB) August 28, 2014
GlobaFone, a leading multi-carrier satellite service provider has announced its rental program for Iridium GO!, the first portable personal Wi-Fi hotspot that enables voice and data communications from your Smartphone. The rental program will make GO! devices available for weekly or monthly rentals and longer-term leases.
"Until now, if you needed to rent a satellite phone , you had to rent the actual satellite phone", said GlobaFone CEO Lou Altman. "Iridium GO! is the first portable Wi-Fi device that lets you actually use YOUR Smartphone as the satellite phone, meaning you can use the device with which you are already comfortable."
The Iridium GO! works with various iPhones and Android devices as well as tablets, iPads and laptops. Users need to perform some setup, loading the apps on your device that run the voice, data, e-mail and limited web browsing services.
"People are comfortable with their phones, iPads, tablets, etc.," said Altman. "So as we in the industry enable a higher ease of use, it is good for everyone. The set-up takes a little work, but the GO! works great and will make short-term use of satellite communications easy for short-term needs.'
You can see the Rental Agreement HERE
ABOUT GLOBAFONE:
GlobaFone of Portsmouth, NH is an award-winning, leading service provider of satellite voice and data solutions to Federal, State and Local Governments, and corporate clients. GlobaFone solutions include five brands of satellite communications – Iridium, Inmarsat, Globalstar, Thuraya and VSAT. GlobaFone also provides cellular service for rent or lease with coverage across the planet.
###