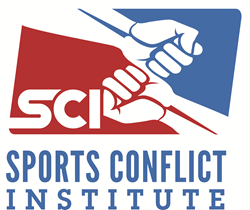 It's one of the surest ways to chase someone from sports and undermine a team's performance goals
Eugene, OR (PRWEB) August 29, 2014
What is bullying and why does it matter in sports? Dr. Gary Namie defines bullying as the "repeated, health- harming, mistreatment by one or more people. It takes the form of verbal abuse, intimidation, sabotage, humiliation, or threats. It is a form of abusive conduct very much akin to domestic violence." Namie continued, "truth be told, bullying is a wide range of misconduct, but for us, it is a form of workplace violence that stops just short of the physical, just short of battery."
"There is tremendous inertia and deference to history in sports. Additionally, there is a strong belief in coaches' prerogative that discourages visibility into the daily life of a sports team. Without external mechanisms in place to shine a light, a team can become a dark place for many athletes," reflected Sports Conflict Institute's Joshua Gordon. "It's one of the surest ways to chase someone from sports and undermine a team's performance goals. Many in sports seem to hold a belief that because sports are tough and demanding that bullying isn't really a problem. The work that Dr. Namie has done in this space has been critical in helping programs like our Institute better serve teams and organizations," continued Gordon.
When asked where the line is that differentiates bullying from behavior meant to toughen up athletes, Namie responded, "when the consequences are either undermining the mission, the very purposes of the enterprise, but also and absolutely it could be stand alone, it must include health harm of the individual, the recipient, then it is beyond appeal, and nothing justifies it."
Namie would go on to state, "I think a lot of sports coaches have forgotten reinforcement principles 101, you've got to emphasize the positive or you're just going to destroy a person. Aversive conditioning, it is not a good motivational tactic."
Why then does Namie think that so many college coaches are missing the boat when it comes to motivational profiles and how to get something out of their student athletes? "I think it parallels history in management. If they've never learned how to do differently, and yet they have been told, 'you're wonderful, you're wonderful, you're wonderful, we love your results,' and now they're middle aged, who's going to change them? The point is, to me, they're stuck in a rut, they're dinosaurs. But the point is, they've had all the external rewards that anyone could hope to achieve and then everyone else becomes their apologist."
Watch the entire interview. http://sportsconflict.org/resource/bullying-in-sports-a-discussion-with-dr-gary-namie/
About SCI
SCI supports competitive goals in athletics through understanding, preventing, and resolving destructive conflict both inside and outside the lines. SCI serves as a knowledge center and provides a range of services to help ensure student-athlete experience is part of a healthy university culture while optimizing performance on and off the field of play. Conflict is inevitable, but how we respond determines whether success follows or costs mount. SCI Founder Joshua Gordon has over 20 years of conflict management experience.