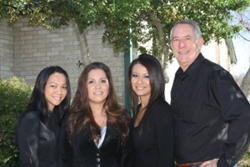 No one should have to pay a fortune to find what is wrong with their dental health or try out a new dentist.
San Antonio, Texas (PRWEB) August 30, 2014
For a limited time, North Babcock Dental Care is offering a thorough exam, including x-rays, to all new patients for ONLY $29 (which is a total savings of $193). Dr. Stuart Kalmus has been providing a wide range of dental technology for the entire family for over 32 years in South Texas. He and his dedicated staff are available to answer any questions about cosmetic and restorative work, dental implants, simple dentistry, insurance benefits, and alternative payment options. The office also offers a prepayment courtesy of 5% for payments received at least one week prior to a scheduled service.
Services provided at the North Babcock Dental Care include cosmetic and restorative dentistry, tooth conserving dentistry, and biomimetic dentistry (which is removing only what is necessary to restore the teeth to their original appearance and strength). Other general dentistry services include deep whitening (a chair-side procedure), porcelain veneers, dental crowns and implants, natural looking fillings, periodontal disease treatment, Invisalign (the non-hardware approach to a more aligned and straighter smile) as well "sedation dentistry."
Sedation dentistry refers to the use of sedatives during dental procedures and treatments. These sedatives are used to calm and relax the patient's mind and body. There are different degrees of sedation, and Dr. Kalmus works closely with each patient to determine the right type of sedation that best fits their needs. With over 75% of people having a fear of going to the dentist, sedation therapy can be used to quickly and safely calm patients with heightened anxiety. Also, more treatments can be accomplished in a single visit with sedation dentistry, so procedures normally taking two or three visits can typically be completed in just one visit.
To learn more about the red carpet new patient special offered by Dr. Kalmus, or to schedule a new patient appointment, go to http://cosmeticdentistssanantonio.com/ and fill out the appointment request form, or call the office at 210-625-5993. Try North Babcock Dental Care, your dentist in San Antonio, where "no one should have to pay a fortune to find what is wrong with their dental health or try out a new dentist."
For more info:
North Babcock Dental Care
5970 Babcock Rd San Antonio, TX 78240
(210) 691-1200
cosmeticdentistssanantonio.com