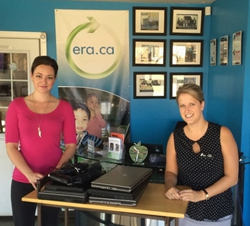 "Access to a computer is no longer a nonessential luxury," said Paduh, "It's a necessity. Looking for work, staying in touch with crucial support systems, completing school work – It isn't possible without a computer."
Vancouver, BC and Calgary, Alberta (PRWEB) August 29, 2014
"It has been a very busy summer for the ERA," said Paduh. "We have received a record number of requests for technology donations," he added. "While many Canadians plan exciting vacations and spend time enjoying the outdoors and everything summer has to offer it is easy to forget that there are people struggling to meet their most basic needs."
Over the past few months, in addition to filling record donation requests, the ERA has fostered new partnerships with organizations like the Cerebral Palsy Association of Alberta and the Calgary Urban Project Society, committing to provide them with technology resources for individuals utilizing their services. The ERA has also facilitated a successful back-to-school collection initiative, which calls local businesses to collect unwanted electronics on behalf of the ERA that are then recycled or reused in support of children in need beginning the school year with a computer.
"Access to a computer is no longer a nonessential luxury," said Paduh, "It's a necessity. Looking for work, staying in touch with crucial support systems, completing school work – It isn't possible without a computer."
The ERA receives multiple requests for IT equipment donations daily. As a non-profit organization reliant on corporate and community support, there is no guarantee that requested equipment will be available. The ERA requires a high volume of unwanted electronics in order to meet the technology needs of local charities and individuals, and as such works to foster long-term, mutually beneficial partnerships with corporations and individuals alike.
About the Electronics Recycling Association
Established in 2004, the ERA is a non-profit organization directed to reduce the environmental impact of improperly discarded toxic electronic waste by offering accessible services to help corporations and individuals manage their retiring IT assets. With reuse being the ERA's top priority, every item that is received is examined for any remaining productive life and refurbished for reuse. True end of life items are transferred to accredited recyclers where a nil landfill contribution can be assured. The ERA is committed to supporting local charities and individuals in need through the provision of electronic equipment to charities and individuals alike.