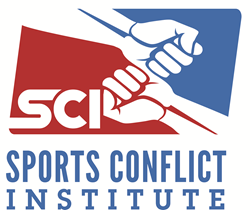 'I'd like to see it slow down a little bit.'
Eugene, OR (PRWEB) August 30, 2014
What challenges exist in recruiting top talent for NCAA football programs? What are the latest trends, concerns, and considerations? Sports Conflict Institute's Joshua Gordon and Dr. Ken Pendleton recently spoke with Woody Wommack, Southeast Football Recruiting Analyst of Rivals.com/Yahoo! Sports about a number of current issues in football recruiting. Notably, Wommack spoke on what the recruiting process is like for younger athletes, changes that he thinks are coming as a result of the O'Bannon trial, and considerations for parents of young athletes.
Regarding the trend of ranking younger and younger athletes each year, Wommack stated, "It does make me uncomfortable, especially (when) we're being asked to rank guys younger and younger, I mean, one of the companies recently came out with the 2017 rankings sets. Those are guys who have not played one down of their sophomore year. I mean...a guy's 15, how do you project how he's going to be when he's 21, 22? That's difficult."
When asked by Pendleton if earlier recruiting trends were actually "healthy for the sport and for the kids," Wommack replied, "I'd like to see it slow down a little bit. The coaches say they want that too, but they're the ones offering scholarships."
One of the changes that Wommack would make if he was in charge of NCAA recruiting rules would be to get "the dead period to go both ways with the players and coaches," in effect not only limiting coaches from contacting athletes during the dead period, but also limiting the athlete from contact with coaches. For further change, Wommack continued, "I'd like to see that early signing period that we've talked about so much. If a player's going to commit so early, lets let him get locked in, so the drama is taken out a bit during his senior season on the field. If they want to take him, it makes it easier on everyone to not have to think about it."
Wommack offered advice on how parents and family can get educated about recruiting. "There is a lot of information online. The key is to make sure that you read it. It's a Google search away." Wommack continued, "If I'm a parent, I talk to the coach. If a coach is calling your son, get him on the phone and ask the questions."
Wommack had more than a few closing words, "Just remember, these guys are kids, we see them getting attacked on Twitter and social media when they may decommit from a school. They're just trying to make a decision. Like I said, they're going to change their mind, it's gonna happen. Hopefully they do it in the best way possible."
Watch the entire interview: http://youtu.be/b6ZTHShg6xc.
About SCI
SCI supports competitive goals in athletics through understanding, preventing, and resolving destructive conflict both inside and outside the lines. SCI serves as a knowledge center and provides a range of services to help ensure student-athlete experience is part of a healthy university culture while optimizing performance on and off the field of play. Conflict is inevitable, but how we respond determines whether success follows or costs mount. SCI Founder Joshua Gordon has over 20 years of conflict management experience.