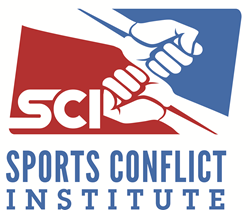 We're educating and we're trying to give them a heads up as to what can happen if you do things the wrong way.
Eugene, OR (PRWEB) August 31, 2014
With the NCAA set to undergo significant change, the Sports Conflict Institute hosted an interview with Yale University Associate Athletic Director Steve Conn to talk college football as well as Yale's approach to ensuring student-athlete experience that is consistent with the University's expectations.
During the interview, Conn highlighted a number of key factors that contribute to a positive sports culture at a university. A critical factor in creating this culture seems simple at first. "The athletes are mixed in with everybody else," said Conn. "This is an important factor in ensuring the health of a university, it's athletic department, and the teams themselves. Rarely has ghettoized housing had positive outcomes in any setting. Many universities today, for very understandable and practical reasons, separate athletes from the rest of the student body. I'm concerned with the unintended consequences," added Sports Conflict Institute's Joshua Gordon.
On if it would be viable for other schools (non-Ivy League schools such as Miami) to have their athletes live in the same accommodations, eat food at the same places, and receive the same tutorial services as all other students, Conn stated, "That's a problem I think, you get so many other services for the student athletes with scholarship schools, it might be very difficult to spread them out there on the campus."
To provide athletes with positive experiences and prevent hazing and bullying from occurring at Yale, Conn stated "we go over with our captains and our coaches...the NCAA policies, our policies, and more, there's Connecticut Law and Federal Law. We let them know about bullying, let them know about hazing and any other thing that possibly could come up and there's obviously so many things that come up, so we try to be as educational with them as possible to let them know, that even though these are really bright kids, we still have to remind them about everything, whether its social media, or anything else."
Conn would also describe Yale's policy on Social Media. "I've seen so many examples of schools, mostly scholarship schools, where they try to be controlling or they say you can or can't do certain social media for the student athletes or they're monitoring what they're doing. We're educating and we're trying to give them a heads up as to what can happen if you do things the wrong way. We try to monitor a little bit, but it's very difficult because we're a small office and we have 35 varsity sports at Yale." Conn continued, "My first bit of advice for student athletes or anybody else…don't ever put anything in electronic communication that you wouldn't want on the ticker on ESPN on the bottom line or in the front page of your local newspaper." Further, Conn stated "Think before you hit send, because if you do, you may end up figuring out that its better to make a phone call or go see a person than it is to send it."
"I am very appreciative of the example set by Yale and it's peer institutions. They help to highlight areas for potential improvement across NCAA athletics and, in many ways, represent a certain time capsule where intercollegiate sports are presented in a more distinctly amateur athletics model. The educational value of athletics is paramount. As the NCAA grows, of course it will adapt and change but Yale and others serve as an important reminder of some of the experience that we must work hard to preserve. It's not easy but it is important," reflected Gordon.
Listen to the entire interview. http://sportsconflict.org/conversation-yale-universitys-steve-conn-ncaa-football/
About SCI
SCI supports competitive goals in athletics through understanding, preventing, and resolving destructive conflict both inside and outside the lines. SCI serves as a knowledge center and provides a range of services to help ensure student-athlete experience is part of a healthy university culture while optimizing performance on and off the field of play. Conflict is inevitable, but how we respond determines whether success follows or costs mount. SCI Founder Joshua Gordon has over 20 years of conflict management experience.