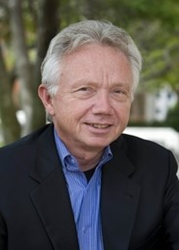 Dr. Jackson has been a champion for our children of today and tomorrow throughout his distinguished career....All children benefit from his unique vision and dedication.
(PRWEB) August 29, 2014
Richard Joseph Jackson of California has been named the winner of the Children's Environmental Health Network's (CEHN's) 2014 Policy Award, and will be honored at the CEHN 2014 Annual Child Health Advocate Award Reception in Washington, D.C., on October 6, 2014.
Dr. Jackson, a pediatrician, is Professor and former Chair of Environmental Health Sciences at the Fielding School of Public Health at the University of California, Los Angeles. Early in his career, he started the Environmental Hazards committee of the California Chapter of the American Academy of Pediatrics (AAP), eventually joining and then chairing the national committee. His work was instrumental in creating the California Birth Defects Monitoring Program, as well as instigating laws on "right to know" regarding where and how much toxic chemicals were contaminating air, water, food and the workplace. As children can be more sensitive to toxic chemicals, and are generally more exposed to them than are adults, he advocated that the "safe" limits of these chemicals be set more stringently, first for children, then for pregnant women, and finally for the entire populations. He actively served on a related National Research Council committee that in 1993 issued the report Pesticides in the Diets of Infants and Children, which became the policy structure for the national Food Quality Protection Act (FQPA) of 1996.
In 1994 Jackson was invited to the CDC to become Director of the National Center for Environmental Health. During his nine years in this position, he had broad responsibilities and started the Environmental Health Tracking Program, the Asthma Epidemiology Program, and the National Pharmaceutical Stockpile for pandemics. A keystone in his work was his developing the policy and financial support for CDC's Biomonitoring Program. For this and other work, he received the Breast Cancer Fund's Hero Award and the Lifetime Achievement Award from the Public Health Law Association. Jackson's work has also includes infectious disease control: he worked on smallpox eradication in India, and in California was head of Communicable Disease Control. He has been a longstanding advocate for reductions in the widespread use of non-therapeutic antibiotics in agriculture. He ultimately served as the California State Health Officer. In October of 2011, he was elected to the Institute of Medicine of the National Academy of Sciences.
In recent years, Jackson has lectured and spoken on a variety of issues, with a particular focus on those related to the connections between the built environment and public health. He co-authored two Island Press Books: Urban Sprawl and Public Health published in 2004, and Making Healthy Places published in 2011. In 2012, he hosted a public television series, Designing Healthy Communities, and authored a book by the same name which focuses on the impact of the built environment on health, especially of children. He has served on numerous environmental and health boards, as well as the Board of Directors of the American Institute of Architects. In 2012 the AIA by election conferred on him an Honorary AIA, and also in that year he received the John Heinz Prize for Leadership in the Environment. Jackson has also received the highest honor of the American Public Health Association, the Sedgwick Memorial Medal. He and his wife Joan have 3 children: one a CDC physician, one a middle school teacher, and one a film-maker, and they have one grandchild.
Dick J. Batchelor, Vice-Chair of CEHN's Board of Directors, comments on Dr. Jackson's selection for the Policy Award, "Dr. Jackson has been a champion for our children of today and tomorrow throughout his distinguished career. At the CDC's National Center for Environmental Health, at the California Health Department, and in academia, he has showed us how the built environment impacts a child's health, development and future. All children benefit from his unique vision and dedication."
The winner of CEHN's 2014 Science Award, Dr. Tracey Woodruff of the University of California at San Francisco's School of Medicine, will also be honored at the October 6th CEHN Annual Child Health Advocate Award Reception, as well as Community Award and N.O.W. Youth Leadership Award recipients.
The Children's Environmental Health Network is a national multi-disciplinary organization whose mission is to protect the developing child from environmental health hazards and promote a healthier environment.