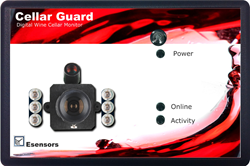 An on-line watch for wine cellars
Amherst, New York (PRWEB) August 30, 2014
The "Cellar Guard" monitor incorporates our experience with industrial HVAC and server rooms monitoring, but adds the experience of wire experts. It features precision sensors for bottle and air temperature in addition to humidity and light monitoring. A special feature is a motion-activated camera which captures photos of visitors as a record of use. Both wireless (WiFi) and wired (Ethernet) communication to the Internet are available.
Time-stamped, continuous records of the temperature and other parameters are stored on the cloud as assurance that the wine has been under proper conditions during the entire period of storage. These records may be accessed at any time by a PC, laptop, tablet or smart phone. A dashboard is provided with summary parameters keyed to wine storage, but with detailed records available when needed.
Alerts, with thresholds chosen by user, are sent by email, text message or phone. It allows actions to be taken before damage is done.
A white paper "An Engineer's View of Wine Cellar Monitoring" is available: http://eesensors.com/wine-cellar-monitor-landing.
Esensors Inc. is an electronic sensor development company established in 2000 by D. Wobschall. Its long-term goal is to develop, manufacture and market smart wired and wireless digital sensors with network capabilities. A current focus is on sensors for the smart grid and smart buildings. It supports standards development, in particular IEEE 21451. Because of a close relationship with the University of Buffalo the company has access to a high level of expertise in the area of electronic engineering.