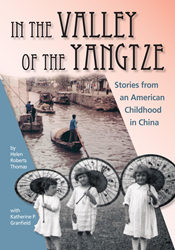 "This is a fascinating look into Chinese society by well-known life teacher Helen Thomas. It's value is not only in the context of a historical record, but also the precious glimpse we receive into the upbringing of an inspirited woman. Bravo!"
(PRWEB) September 03, 2014
"IN THE VALLEY OF THE YANGTZE: Stories from an American Childhood in China" has been described as "a beautifully written coming-of-age tale set in a world that would change irrevocably when the Communist Party of China seized power in 1949." Because her parents were missionaries, Helen met several famous people during her years in China. Among these were Charles and Anne Morrow Lindbergh, and General Chiang Kai-shek. She relates a number of humorous memories, including her grade-school encounter with Pearl Buck and her lunch with classmate Jeanette Kung, the only daughter of China's richest man. Her accounts of her father's bravery during two Japanese invasions and her own desperate escape from China in 1937 will have you clinging to the edge of your seat.
Helen was born in Shanghai and lived there and in Nanking during the 1920s and 1930s. She has incorporated more than 100 family photographs and other images to help her reader understand how difficult life in China was then, even in these important cities. For those who are not familiar with Chinese geography, the author has also included period maps that show where things are and where her stories took place.
ABOUT THE AUTHOR
The author's parent were Episcopal missionaries who went to China during WWI. Helen was born in Shanghai in 1921. Her family moved to Nanking shortly after her birth. Apart from a few trips to the United States, she remained in China until the Japanese seized Shanghai in 1937. Traveling alone to America, she made her way to Chatham, Virginia. After two years at Chatham Hall School, she attended Wheelock College in Boston where she received a teaching degree. She began her teaching career in 1942 in Englewood, New Jersey. The following year she returned to China as a member of the Red Cross. After the war, while working at the Boston Herald-Traveler, she met her future husband, John Cunningham Thomas. "JC" was a chemist from Yale. Helen and JC married in 1951 and moved to Wilmington, Delaware where JC began a thirty-year career with the Du Pont Company. After raising three children, Helen resumed her teaching career, this time in the Humanities Department at Delaware Technical and Community College. In 1970, she founded the Delaware chapter of the National Organization for Women (NOW). She is an ACLU honoree and a member of the Delaware Women's Hall of Fame, and her papers reside with the Delaware Historical Society.
ABOUT COMMONWEALTH BOOKS OF VIRGINIA:
The motto of Commonwealth Books of Virginia is, "Where History, Philosophy, and Art Meet", underscores the three-dimensional quality of the histories it publishes. It uses state-of-the-art technology to transform its printed titles into families of products including e-books, audio books, audio/video programs, and mobile devise applications. It advertises its authors and products in a program that coordinates traditional public relations with social media outreach. Its print and e-book editions are distributed by Small Press United of Chicago and its online affiliates. Its audio, audio-video, and video products are available through Amazon, Audible, and iTunes, and their global partners.
For information about the book, call Commonwealth Books of Virginia at 73-307-7715.
IN THE VALLEY OF THE YANGTZE: Stories from an American Childhood in China earlier this year.
By Helen Roberts Thomas
Memoir
Library of Congress Control Number: 2013940472
Paperback Edition ISBN: 978-0-9854863-2-7
Publication Date: March 18, 2014
EPUB Edition ISBN: 978-0-9854863-3-4
PDF Edition ISBN: 978-0-9854863-4-1
Mobipocket (Kindle) Edition ISBN: 978-0-9854863-6-5
Release date: Immediate
View book details online at: http://www.commonwealthbooks.org