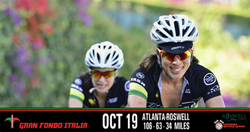 Alpharetta, Georgia (PRWEB) August 30, 2014
The International cycling event, "Gran Fondo Italia Atlanta-Roswell" will take place October 19, 2014 in Roswell, Georgia with the bike course bringing it through the awesome city of Alpharetta, Georgia. The two day expo is October 18 and 19. As the first cycling event in the South that joins recreational cycling and the Italian lifestyle, the ride will showcase the excellence of Italian food, wine, tourism and culture. Bringing the best of Italian-style cycling to Georgia riders, cyclists will experience three beautiful courses, including 34 miles, 63 miles and a 106 mile long course with a Gran Premio della Montagna climb challenge. The ride will finish with food, wine and celebration at Roswell City Hall.
Modeled after the incredibly popular Gran Fondo cycling event format that originated in Italy, the ride will begin with a combined mass start in Roswell, complete with an official Italian style start celebration, lead-out and police escort. The Gran Fondo Italia Atlanta-Roswell ride offers a mix of moderate courses and courses with challenges to provide a unique experience for riders of all levels to enjoy the cycling terrain.
Following the ride, cyclists and guests will have the chance to experience top Italian products from Colnago and fi'zi:k along with local, regional and national brands during the Gran Fondo Italia expo at Roswell City Hall. Set within a fun atmosphere for riders, family and friends, the Expo will include cycling nutrition, hydration, food, wine, entertainment, travel, clothing and merchandise.
The weekend will be packed with things to do in Alpharetta including the Alpharetta Farmers Market on Saturday, October 18 and one of Alpharetta's most anticipated events, the Wire and Wood Songwriters Festival on October 17 and 18. The festival is free to attend and event goers will have the chance to see songwriters tell the story behind the song in the heart of Downtown Alpharetta. Miranda Lambert will be performing at the Kicks 101.5 and Carl Black Country Fair at Verizon Wireless Amphitheatre on October 18. Book your hotel and start planning a weekend packed of awesome events! For a full listing of events visit http://www.awesomealpharetta.com.
"Alpharetta is a proud supporter of the Gran Fondo Italia and is excited to cheer the cyclists on as they ride through our city," said Janet Rodgers, president and CEO of the Alpharetta Convention and Visitors Bureau. "We invite all cyclists and their families to stay in one of Alpharetta's upscale and modern hotels. Visitors can complete their stay with delicious food from local restaurants, one of a kind shopping and unique events."
For more information or to book a hotel room visit http://www.awesomealpharetta.com.